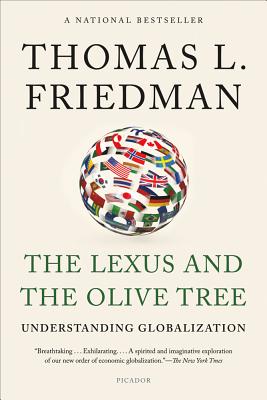 The Lexus and the Olive Tree
Understanding Globalization
Paperback

* Individual store prices may vary.
Other Editions of This Title:
Digital Audiobook (7/1/2013)
Hardcover (6/1/2000)
Hardcover (4/1/1999)
Description
"A brilliant guide for the here and now."---The New York Times Book Review

In this vivid portrait of the new business world, Thomas L. Friedman shows how technology, capital, and information are transforming the global marketplace, leveling old geographic and geopolitical boundaries. With bold reporting and acute analysis, Friedman dramatizes the conflict between globalizing forces and local cultures, and he shows why a balance between progress and the preservation of ancient traditions will ensure a better future for all. The Lexus and the Olive Tree is an indispensable look at power and big change in the age of globalization.
Praise For The Lexus and the Olive Tree: Understanding Globalization…
"Required reading...No one gives a better explanation of [globalization] than New York Times correspondent Thomas L. Friedman....Impressive." —The Christian Science Monitor

"Important…Friedman writes in straightforward language that should make globalization's complexities comprehensible. There's a great deal of wisdom in this book." —USA Today

"Friedman gets the economics right. His book is a wellspring of economic common sense that will inoculate its readers against the 'globaloney' so prevalent in popular discussions of the subject." —Foreign Affairs

"Friedman convincingly argues that what creates wealth has suddenly changed.…The Lexus and the Olive Tree makes alarmingly good sense; it educates and provokes." —The Baltimore Sun

"A lively mix of anecdote and analysis…full of solid reporting…Friedman is eager, provocative, [and] often entertaining….Insightful." —The Boston Globe

"There is hardly a page in The Lexus and the Olive Tree without an underlineable passage….Friedman has used his remarkable vantage point to provide a readable overview that no academic or narrow-beat reporter could have given us….A genuinely important book." —Salon
Picador, 9781250013743, 512pp.
Publication Date: August 21, 2012
About the Author
Thomas L. Friedman is an internationally renowned author, reporter, and columnist-the recipient of three Pulitzer Prizes and the author of six bestselling books, among them From Beirut to Jerusalem and The World Is Flat.

He was born in Minneapolis in 1953, and grew up in the middle-class Minneapolis suburb of St. Louis Park. He graduated from Brandeis University in 1975 with a degree in Mediterranean studies, attended St. Antony's College, Oxford, on a Marshall Scholarship, and received an M.Phil. degree in modern Middle East studies from Oxford. After three years with United Press International, he joined The New York Times, where he has worked ever since as a reporter, correspondent, bureau chief, and columnist. At the Times, he has won three Pulitzer Prizes: in 1983 for international reporting (from Lebanon), in 1988 for international reporting (from Israel), and in 2002 for his columns after the September 11th attacks.

Friedman's first book, From Beirut to Jerusalem, won the National Book Award in 1989. His second book, The Lexus and the Olive Tree: Understanding Globalization (1999), won the Overseas Press Club Award for best book on foreign policy in 2000. In 2002 FSG published a collection of his Pulitzer Prize-winning columns, along with a diary he kept after 9/11, as Longitudes and Attitudes: Exploring the World After September 11. His fourth book, The World Is Flat: A Brief History of the Twenty-first Century (2005) became a #1 New York Times bestseller and received the inaugural Financial Times/Goldman Sachs Business Book of the Year Award in November 2005. A revised and expanded edition was published in hardcover in 2006 and in 2007. The World Is Flat has sold more than 4 million copies in thirty-seven languages.

In 2008 he brought out Hot, Flat, and Crowded, which was published in a revised edition a year later. His sixth book, That Used to Be Us: How American Fell Behind in the World We Invented and How We Can Come Back, co-written with Michael Mandelbaum, was published in 2011.

Thomas L. Friedman lives in Bethesda, Maryland, with his family.