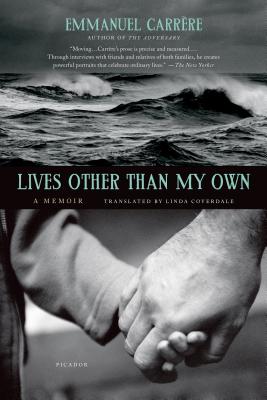 Lives Other Than My Own (Paperback)
A Memoir
Picador, 9781250013774, 256pp.
Publication Date: September 4, 2012
Other Editions of This Title:
Hardcover (9/13/2011)
* Individual store prices may vary.
Description
From the acclaimed, award-winning author Emmanuel Carrère, Lives Other Than My Own: A Memoir is an act of generous imagination that unflinchingly records devastating loss and, equally vividly, the wealth of human solace that follows in its wake.
Selected by the New York Times as one of the 50 Best Memoirs of the Past 50 Years
In Sri Lanka, a tsunami sweeps a child out to sea, her grandfather helpless against the onrushing water. In France, a young woman succumbs to illness, leaving her husband and small children bereft. Present at both events, Emmanuel Carrère sets out to tell the story of two families—shattered and ultimately restored. What he accomplishes is nothing short of a literary miracle: a heartrending narrative of endless love, a meditation on courage and decency in the face of adversity, an intimate and reverent look at the extraordinary beauty and nobility of ordinary lives.
Precise, sober, and suspenseful, as full of twists and turns as any novel, Lives Other Than My Own confronts terrifying catastrophes to illuminate the astonishing richness of human connection: a grandfather who thought he had found paradise—too soon—and now devotes himself to helping his neighbors rebuild their village; a husband so in love with his ailing wife that he carries her in his arms like a knight does his princess; and finally, Carrère himself, longtime chronicler of the tormented self, who unexpectedly finds consolation and even joy as he immerses himself in the lives of others.
"Moving…Carrère's prose is precise and measured…Through interviews with friends and relatives of both families, he creates powerful portraits that celebrate ordinary lives."—The New Yorker
"You begin this memoir thinking it will be about one thing, and it turns into something else altogether—a book at once more ordinary and more extraordinary than any first impressions might allow."—The New York Times
About the Author
Emmanuel Carrère, novelist, filmmaker, journalist, and biographer, is the award-winning internationally renowned author of The Adversary (a New York Times Notable Book), Lives Other Than My Own, My Life As A Russian Novel, Class Trip, and The Mustache. Carrère lives in Paris.
Praise For Lives Other Than My Own: A Memoir…
"Gratifying and surprising…A book about the texture and resonance of loss…Carrère covers a lot of ground with cool honesty and careful humanity." —Sally Singer, The New York Times, A Favorite Book of the Year
"A beguiling writer…Graceful and important." —John Freeman, NPR
"In Lives Other Than My Own, Emmanuel Carrère demonstrates that empathy can be the antidote to alienation, if we try for it. With the finely measured assurance of Chekhov, he achieves something altogether unexpected in modern literature: beatitude." —Gary Indiana, author of The Shanghai Gesture and Three Month Fever

"Whenever I try to describe this memoir — and I do that often, since it's a book I don't just recommend but implore people to read — I feel like I'm trying to parse a magic trick." — Jennifer Szalai, The New York Times Book Review
"[Carrère's] prose is precise and measured, especially in the account of Juliette and her husband, and their 'always new, always deeply moving' love. Through interviews with friends and relatives of both families, Carrère creates powerful portraits that celebrate ordinary lives." —The New Yorker
"A powerful story of happiness wrenched from despair. Once the tempest has passed, words remain, and what words they are!" —Le Nouvel Observateur (France)
"Yet again, Carrère has written a masterpiece. With his singular blend of reportage, detective fiction, and autobiography, he has produced an achingly beautiful, wholly unforgettable portrait of lives racked by tragedy and redeemed by love." —Caroline Weber, author of Queen of Fashion