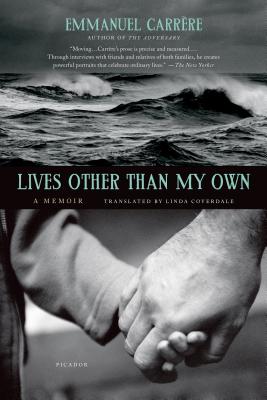 Lives Other Than My Own (Paperback)
Picador USA, 9781250013774, 243pp.
Publication Date: September 4, 2012
Description
In Sri Lanka, a tsunami sweeps a child out to sea, her grandfather helpless against the onrushing water. In France, a woman dies from cancer, leaving her husband and small children bereft. What links these two catastrophes is the presence of Emmanuel Carrere, who manages to find consolation and even joy as he immerses himself in lives other than his own. The result is a heartrending narrative of endless love, a meditation on courage in the face of adversity, and an intimate look at the beauty of ordinary lives.
About the Author
Emmanuel Carrere, novelist, filmmaker, journalist, and biographer, is the award-winning internationally renowned author of The Adversary (a New York Times Notable Book), Lives Other Than My Own, My Life As A Russian Novel, Class Trip and The Mustache. Carrere lives in Paris.
Praise For Lives Other Than My Own…
"Gratifying and surprising…A book about the texture and resonance of loss…Carrère covers a lot of ground with cool honesty and careful humanity."---Sally Singer, The New York Times, A Favorite Book of the Year "A beguiling writer…Graceful and important."---John Freeman, NPR
"In
Lives Other Than My Own,
Emmanuel Carrère demonstrates that empathy can be the antidote to alienation, if we try for it. With the finely measured assurance of Chekhov, he achieves something altogether unexpected in modern literature: beatitude."---Gary Indiana, author of
The Shanghai Gesture
and
Three Month Fever
"A powerful story of happiness wrenched from despair. Once the tempest has passed, words remain, and what words they are!"---Le Nouvel Observateur (France)
Advertisement