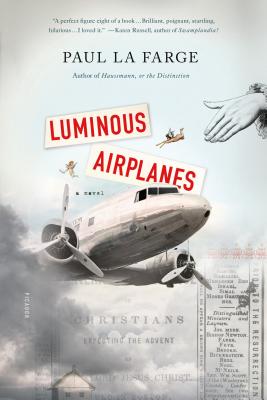 Luminous Airplanes (Paperback)
A Novel
Picador, 9781250013828, 256pp.
Publication Date: October 2, 2012
* Individual store prices may vary.
Description
A New York Times Book Review Editors' Choice
In September 2000, a young computer programmer comes home from a festival in the Nevada desert and learns that his grandfather has died. He must return to Thebes, a town so isolated that its inhabitants have their own language, and clean out the house where his family has lived for five generations. While he's there, he remembers San Francisco in the wild years of the Internet boom, and begins an ill-advised romance in which past and present are dangerously confused. Paul la Farge's Luminous Airplanes is an expansive, hugely imaginative, and very funny novel about history, love, memory, family, flying machines, dance music, and the end of the world.
About the Author
Paul La Farge is the author of the novels The Artist of the Missing (FSG, 1999), Haussmann, or the Distinction (FSG, 2001), and Luminous Airplanes (FSG, 2011); and a book of imaginary dreams, The Facts of Winter. His short stories have appeared in McSweeney's, Harper's Magazine, Fence, Conjunctions, and elsewhere. His nonfiction appears in The Believer, Bookforum, Playboy, and Cabinet. He lives in upstate New York.
Praise For Luminous Airplanes: A Novel…
"A perfect figure eight of a book…Luminous Airplanes is brilliant, poignant, startling, hilarious….I loved it." —Karen Russell, author of Swamplandia!
"Captivating…A wry, provocative, and often hilarious coming-of-age tale." —The Boston Globe
"A strange and salutary shock…Luminous Airplanes isn't about disconnection and meaninglessness. It is about connection and significance…the ramifying, mysterious ways we human beings affect each other, from parent to child, invention to invention, generation to generation." —The New York Times Book Review
"La Farge tells his tale of homecoming compassionately but without sentimentality….Rather than submitting to the darkness of the sleeping bag that is modern fiction, La Farge encourages his readers to search the sky for the signs that herald the return of loved ones we've lost." —Time Out (New York)
"Beautiful…Calls to mind Haruki Murakami…A high-concept novel worth reading." —The Economist