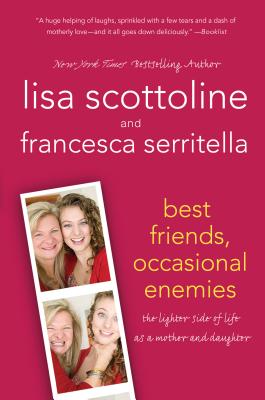 Best Friends, Occasional Enemies: The Lighter Side of Life as a Mother and Daughter (Paperback)
The Lighter Side of Life as a Mother and Daughter
Griffin, 9781250013866, 307pp.
Publication Date: September 18, 2012
Description
In "Best Friends, Occasional Enemies, ""New York Times" bestselling author Lisa Scottoline and her daughter, Francesca Serritella, are the best of friends 99.9% of the time. They're number one on each other's speed dial and they tell each other everything well, almost everything. They share shoes and clothes except one very special green jacket, which almost caused a catfight.
In other words, they're just like every mother and daughter in the world. Best friends and occasional enemies. Now they're dishing about it all: their lives, their relationship, and their carb count.
Lisa on Being a Mom: Motherhood has no expiration date. Francesca lives in the city, and I worry about her all the time. My daughter moved out, so why am I still lactating?
Francesca on Being a Daughter: My mother is always right. Just ask her.
About the Author
LISA SCOTTOLINE is the New York Times bestselling and Edgar Award--winning author of twenty novels. She has 30 million copies of her books in print in the United States, and she has been published in thirty-five countries. She has served as President of the Mystery Writers of America. She lives in Philadelphia with an array of disobedient pets. FRANCESCA SERRITELLA graduated cum laude from Harvard University, where she won the Thomas Temple Hoopes Prize, the Le Baron Russell Briggs Fiction Prize, and the Charles Edmund Horman Prize for her creative writing. She is working on a novel, and she lives in New York with only one dog, so far.
Praise For Best Friends, Occasional Enemies: The Lighter Side of Life as a Mother and Daughter…
"Feels like one big gabfest with your best girlfriends, whatever their age. The tell-all twosome have yet again opened their hearts and homes, cooking up a huge helping of laughs, sprinkled with a few tears and a dash of motherly love—and it all goes down deliciously."
— Booklist "[A] witty and sweet return to the ins and outs of life in this sometimes kooky, always smart and funny, family."
— Publishers Weekly "Black-and-white family photographs lend a homey feel to the experience, which culminates in a reminder to mothers and daughters that friendship between them can last a lifetime. A treat for fans of observational humor."— Kirkus Reviews
Advertisement