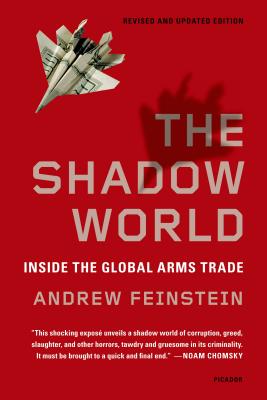 The Shadow World
Inside the Global Arms Trade
Paperback

* Individual store prices may vary.
Other Editions of This Title:
MP3 CD (12/5/2011)
Compact Disc (12/5/2011)
Hardcover (11/1/2011)
Hardcover (11/8/2011)
Paperback (11/1/2011)
MP3 CD (12/5/2011)
Compact Disc (12/5/2011)
Compact Disc (12/5/2011)
Description
Soon to be a Major PBS Documentary Event
"An authoritative guide to the business of war. Chilling, heartbreaking, and enraging."---Arundhati Roy
The Shadow World is the behind-the-scenes tale of the global arms trade, exposing in forensic detail the deadly collusion that all too often exists among senior politicians, weapons manufacturers, felonious arms dealers, and the military---a situation that compromises our security and undermines our democracy.
Andrew Feinstein reveals the cover-ups behind a range of weapons deals, from the largest in history---between the British and Saudi governments---to the guns-for-diamonds deals in Africa and the current $60 billion U.S. weapons contract with Saudi Arabia. Based on pathbreaking reporting and unprecedented access to top-secret information, The Shadow World takes us into a clandestine realm that is as vitally important as it is shocking.
Praise For The Shadow World: Inside the Global Arms Trade…
"This shocking expose unveils a shadow world of corruption, greed, slaughter, and other horrors, tawdry and gruesome in its criminality. It must be brought to a quick and final end." —Noam Chomsky
"A devastating and scrupulously documented account of the greed, venality, and rampant corruption pervading the global arms trade...A brilliant and massively important book." —Andrew J. Bacevich, Colonel, U.S. Army (Ret.), and author of Washington Rules: America's Path to Permanent War
"Feinstein writes with a crusading spirit and a depth of detail that lend The Shadow World urgency and authority….A comprehensive treatment of the arms trade, possibly the most complete account that has ever been written." —The Washington Post
"Feinstein makes his case with an impressive amount of detailed research and a gift for narrative that make his findings hard to dismiss." —Foreign Affairs
"An eye-opener…Everyone would do well to read this book and self-educate on what this world is all about, and then take some action in the voting booth....Tremendous." —Pittsburgh Post-Gazette
"Gripping… Feinstein has succeeded in writing a book that analyses the international arms market with a level of detail and a degree of referencing that may well be unique--what you rarely find in a book aimed at a wide readership… it is a singularly powerful study, and deserves to be ready by anyone who wants to see light shining on such a shadowy world… Impressive." —Paul Rogers, The Independent (London)
"There is enough in Feinstein's book for a dozen film pitches. Bizarre characters leap from the page…. Remarkable and courageous… A heroic book by an author who, in writing it, has placed himself in the firing line." —The Sunday Herald (Scotland)
"I initially expected that the title The Shadow World was hyperbolic. It is not. What Feinstein describes is the underbelly of globalization… The facts are so astonishing that they speak for themselves." —Alex de Waal, Times Literary Supplement (United Kingdom)
"A highly pertinent, deeply damning indictment of the flourishing of the world's 'second oldest profession'….Feinstein's book is sound, timely, and invaluable. Diligent readers will be rewarded." —Kirkus (starred review)
"The Shadow World peels back the veil of secrecy behind which the global arms trade undermines accountable democracy, socioeconomic development, and human rights, causing suffering across the world… This book is essential reading for anyone who cares about justice, transparency, and accountability in both the public and private spheres, and for anyone who believes that it is more important to invest in saving lives than in the machinery of death." —Archbishop Desmond Tutu
Picador, 9781250013958, 736pp.
Publication Date: November 27, 2012
About the Author
Andrew Feinstein is the author of After the Party, a political memoir. He is currently an Open Society Institute Fellow and the founding co-director of Corruption Watch in London.