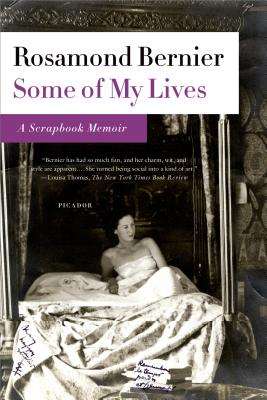 Some of My Lives (Paperback)
A Scrapbook Memoir
Picador, 9781250013972, 320pp.
Publication Date: November 27, 2012
Other Editions of This Title:
Hardcover (10/11/2011)
* Individual store prices may vary.
Description
A New York Times Book Review Editors' Choice
Rosamond Bernier has known many (one is tempted to say all) of the greatest artists and composers of the twentieth century. In Some of My Lives, she has made a kind of literary scrapbook from an extraordinary array of writings, ranging from scholarly articles for American publications to her many contributions to the art journal L'ŒIL, which she cofounded in 1955.
Through the stories of her encounters with Pablo Picasso, Henri Matisse, Leonard Bernstein, Max Ernst, Aaron Copland, Malcolm Lowry, and Karl Lagerfeld, we come to understand the sheer richness of Bernier's experiences and memories. Pithy, hilarious, and wise, Some of My Lives is a multifaceted self-portrait of a life informed and surrounded by the arts.
About the Author
Rosamond Bernier was born in Philadelphia and was educated in France, England, and America. In 1955, she cofounded the influential art magazine L'OEIL, which featured the works of the masters of the School of Paris. A renowned lecturer at the Metropolitan Museum of Art, Rosamond Bernier was named for life to the International Best-Dressed List.
Praise For Some of My Lives: A Scrapbook Memoir…
"Bernier has had so much fun, and her charm, wit, and style are apparent….She turned being social into a kind of art." —Louisa Thomas, The New York Times Book Review
"Animated by Bernier's inimitable voice and charm…her razor-sharp insights, playful humor, and deep humility throw the colorful personalities surrounding her into high relief." —Vogue
"Pablo Picasso befriended Bernier, Henri Matisse gave her fashion tips, Alice B. Toklas baked for her….Some of My Lives is a lively compendium of this movable feast of art and genius---and of the author's own considerable charm." —NPR's Weekend Edition
"A remarkable memoir of a remarkable life. Intimate, winning, sunny, and smart, Some of My Lives has a voice not unlike the one in Diana Vreeland's autobiography---only here, all of it is true." —Michael Kimmelman
"Bernier proves an able guide across a wide range of forms, from painting and sculpture to architecture and fashion. Her interview with Coco Chanel is brilliant....She has provided a very stylish memoir indeed." —The Cleveland Plain Dealer