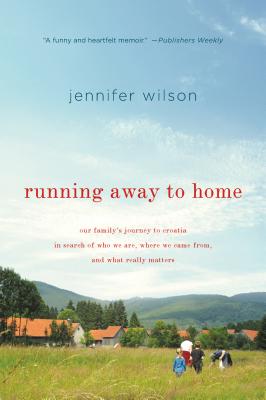 Running Away to Home
Our Family's Journey to Croatia in Search of Who We Are, Where We Came From, and What Really Matters
Paperback

* Individual store prices may vary.
Description
A middle class, Midwestern family in search of meaning uproot themselves and move to their ancestral village in Croatia

"We can look at this in two ways," Jim wrote, always the pragmatist. "We can panic and scrap the whole idea. Or we can take this as a sign. They're saying the economy is going to get worse before it gets better. Maybe this is the kick in the pants we needed to do something completely different. There will always be an excuse not to go…"

And that, friends, is how a typically sane middle-aged mother decided to drag her family back to a forlorn mountain village in the backwoods of Croatia.

So begins the author Jennifer Wilson's journey in Running Away to Home. Jen, her architect husband, Jim, and their two children had been living the typical soccer- and ballet-practice life in the most Middle American of places: Des Moines, Iowa. They overindulged themselves and their kids, and as a family they were losing one another in the rush of work, school, and activities. One day, Jen and her husband looked at each other–both holding their Starbucks coffee as they headed out to their SUV in the mall parking lot, while the kids complained about the inferiority of the toys they just got–and asked themselves: "Is this the American dream? Because if it is, it sort of sucks."

Jim and Jen had always dreamed of taking a family sabbatical in another country, so when they lost half their savings in the stock-market crash, it seemed like just a crazy enough time to do it. High on wanderlust, they left the troubled landscape of contemporary America for the Croatian mountain village of Mrkopalj, the land of Jennifer's ancestors. It was a village that seemed hermetically sealed for the last one hundred years, with a population of eight hundred (mostly drunken) residents and a herd of sheep milling around the post office. For several months they lived like locals, from milking the neighbor's cows to eating roasted pig on a spit to desperately seeking the village recipe for bootleg liquor. As the Wilson-Hoff family struggled to stay sane (and warm), what they found was much deeper and bigger than themselves.
Praise For Running Away to Home: Our Family's Journey to Croatia in Search of Who We Are, Where We Came From, and What Really Matters…
"Wilson's memoir isn't so much about assimilating to Croatian culture as it is about finding family and, therefore, acceptance in unlikely places. A fun-filled, revealing peek into the Croatian countryside nevertheless, it will be enjoyed by travelogue lovers and admirers of Peter Mayle's A Year in Provence (1989) and Frances Maye's Under the Tuscan Sun (1996)." —Katharine Frank, Booklist

"This thoughtful, amusing tale reads like a novel and will have wide appeal." —Melissa Stearns, Franklin Pierce Univ. Lib., Rindge, NH, Library Journal

"The author's voice is consistently infused with an energetic spunkiness, complimented with passages of sage introspection…[an] appealing travelogue of discovery and renewal." —Kirkus Book Reviews

"In her funny and heartfelt memoir, she packs up her husband and two young children from Des Moines, Iowa, with the plan to live a simpler, more connected life in the ancestral home in Croatia and to learn about her immigrant story." —Publisher's Weekly

"Running Away to Home is a sweet journey of reconnection. Wilson and her family move from Big Box America to her ancestral home in Croatia, and in the process become that most precious of things, the truly connected family." —Janine Latus, New York Times bestselling author of If I Am Missing or Dead: A Sister's Story of Love, Murder, and Liberation

"Jennifer Wilson travels and writes with heart and pluck. With her husband and kids in tow, she pushes past all her comfort zone and shows us that adventure is a worthy and rewarding family pursuit. Filled with memorable characters and lovely epiphanies, her tale inspires us to rethink how we define `family' and `home.'" —Jeannie Ralston, author of The Unlikely Lavender Queen: A Memoir of Unexpected Blossoming

"I like the heart and good humor of Jennifer Wilson: she has given us a book about the ways sense of place is heightened by displacement and the most enlightening scraps of history must be coaxed from the darkest corners." —Michael Perry, author of Population: 485: Meeting Your Neighbors One Siren at a Time
St. Martin's Griffin, 9781250014016, 368pp.
Publication Date: October 2, 2012
About the Author
JENNIFER WILSON is an award-winning writer who has chronicled her travels, both epic and around the corner, in National Geographic Traveler, Gourmet, Esquire, Midwest Living, Better Homes & Gardens, Frommer's Budget Travel, Parents, and Disney Family Fun. Running Away to Home was awarded Best Nonfiction Book of 2011 by the American Society of Journalists and Authors.