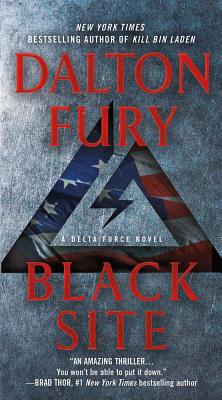 Black Site
Mass Market Paperbound

* Individual store prices may vary.
Other Editions of This Title:
Digital Audiobook (1/30/2012)
Paperback (9/25/2012)
Hardcover (1/31/2012)
Compact Disc (1/31/2012)
Description
Black Site
Dalton Fury
From former Delta Force commander and New York Times bestselling author of Kill Bin Laden comes the first novel in an explosive new series
After September 11, 2001, Delta Force troop commander Dalton Fury was given the secret mission to hunt down and kill the most wanted man in the world, the details of which were recounted in his extraordinary "New York Times "bestseller "Kill Bin Laden." Now, Fury draws upon his hard-won combat experience-and his gift for true-to-life storytelling-to offer a brand-new series of thrillers that are as close to reality as readers can get.
Meet Kolt Raynor. A Delta Force operator and one-time American hero, he is still trying to make sense of his life-and duty-after a secret mission gone bad. Three years ago, in the mountains of Pakistan, Raynor made a split-second decision to disobey orders-one that got some of his teammates killed and the rest captured. Now he's been given a second chance to do right by his country, his men, and himself. But Raynor's shot at redemption comes at a price.
A shadowy group of former colleagues has asked Raynor to return, alone, to Pakistan's badlands. His assignment seems clear: find his missing men and bring them home. What Raynor never expected was to uncover a sinister al Qaeda plot to capture a Black Site--a secret U.S. prison--and destabilize the region. Meanwhile, a ruthless, unknown enemy is on his trail...and he will stop at nothing to make sure that Raynor's mission is "not "accomplished.
An intense, gritty work of edge-of-your-seat suspense, "Black Site "is the first of what promises to be one of the most exciting fiction series of the new millennium.
Praise For Black Site…
Advance Praise of the Highest Caliber: "Black Site is an amazing thriller from a new allstar in the genre. Packed with speed, surprise, and overwhelming violence of action, this is one book you will not be able to put down! Want to know what Spec Ops really look like? Read Dalton Fury. Simply put—nobody does it better."
—Brad Thor, #1 New York Times bestselling author of Full Black
"Step aside, Jack Ryan—Kolt Raynor is the true hero of the new millennium. Written with an authentic voice, the debut novel by Dalton Fury, Black Site, left me breathless and awed by its battlefield- ardened reality. I kept having to remind myself this was fiction. Here is a book to put you in the trenches, slogging with the best, armed to the teeth, challenging you to keep up. If you want to know what it's truly like to be a Delta Force operator, pick up this book today."
—James Rollins, New York Times bestselling author of The Devil Colony
 "Dalton Fury and I came up in the Unit together, flip-flopping troops and missions from Afghanistan to Iraq. What makes his writing unique is not just the tactical accuracy—which this book has in spades—but his unique understanding of the geo-political events that propel the plot. He is the real deal. If you want to know what it's like on the front lines of the shadow war, pick up this book."
—Brad Taylor, New York Times bestselling author of One Rough Man
St. Martin's Press, 9781250014191, 518pp.
Publication Date: September 25, 2012
About the Author
DALTON FURY was the senior ranking military officer at the Battle of Tora Bora. As a Delta troop commander he led ninety-one other Western special operations commandos and support personnel and helped author the operation to hunt and kill bin Laden. He told his tale of that mission in the book, KILL BIN LADEN, which went on to become a national bestseller. Dalton Fury passed away in 2016.
or
Not Currently Available for Direct Purchase