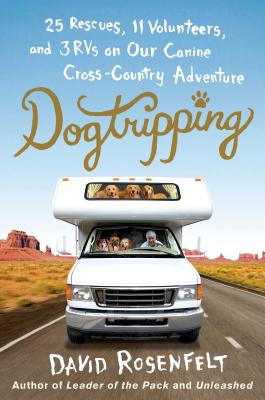 Dogtripping: 25 Rescues, 11 Volunteers, and 3 RVs on Our Canine Cross-Country Adventure (Hardcover)
25 Rescues, 11 Volunteers, and 3 RVs on Our Canine Cross-Country Adventure
St. Martin's Press, 9781250014696, 278pp.
Publication Date: July 23, 2013
Description
David Rosenfelt's "Dogtripping" is moving and funny account of a cross-country move from California to Maine, and the beginnings of a dog rescue foundation
When mystery writer David Rosenfelt and his family moved from Southern California to Maine, he thought he had prepared for everything. They had mapped the route, brought three GPSs for backup, as well as refrigerators full of food, and stoves and microwaves on which to cook them. But traveling with twenty-five dogs turned out to be a bigger ordeal than he anticipated, despite the RVs, the extra kibble, volunteers (including a few readers), and camping equipment. Rosenfelt recounts the adventure of moving his animal companions across the United States with humor and warmth, and tells the tale of how he and his wife became passionate foster parents for rescue dogs, culminating in the creation of the Tara Foundation and successfully placing several thousand dogs with loving families.
An NPR Best Book of 2013.
About the Author
DAVID ROSENFELT is the Edgar and Shamus Award-nominated author of five stand-alones and ten previous Andy Carpenter novels, most recently Leader of the Pack. He and his wife live in Maine with the twenty-five dogs they have rescued.
Praise For Dogtripping: 25 Rescues, 11 Volunteers, and 3 RVs on Our Canine Cross-Country Adventure…
"When was the last time you laughed out loud? When is the last time you cried tears of genuine sadness? When was the last time you did both while reading a 260-page memoir? Dogtripping is a delightful romp through [the] adventures — and misadventures — of running a dog rescue...As a dog lover, it's hard to know whether his stories will resonate with those less fond of his furry four-legged friends, but because Rosenfelt very well could be the funniest American author alive today, it's certainly worth a try. He's charming, likable, self-deprecating, self-aware and utterly hysterical. Be careful where you read this one because you could invoke serious stares from strangers who may think you've lost your mind. If it's been too long since you enjoyed a funny, sweet, romantic tale, read this book."—Associated Press
"A story as poignant as it is hilarious."—Library Journal (starred review)
"A warmhearted winner."—Kirkus Reviews
"Fans of the Carpenter novels will recognize the author's familiar writing style: relaxed and lightly funny, but serious when the moment calls for it...Spirited and absolutely absorbing reading for fans of canine capers—both fictional and otherwise."—Booklist
"Dogtripping is a book that will make you laugh, cry, and want to adopt a dog from the nearest shelter—all on the same page. Rosenfelt's extraordinary narrative style makes it fantastically easy to read in one sitting; in fact it's difficult to put down. Dogtripping contains Rosenfelt's signature style, filled with self-depracating comments and wry humor. It's funny, poignant, and at times, downright sad. In short—it's wonderful." —The Examiner
"An uplifting story that exemplifies the compassion and dedication which are at the heart of the selflessness, serious work, and vital importance of rescue, told with humor and a refreshing sense of self-deprecation."—Larry Levin,
New York Times
bestselling author of
Oogy: The Dog Only A Family Could Love
"Dogtripping is a hoot! Laugh out loud funny, heartfelt and courageous, David Rosenfelt penned a gleefully sideways addition to the adventure travel canon."--Steven Kotler, bestselling author of A Small Furry Prayer and Abundance
"
Dogtripping
is an affectionate and witty journey."—Luis Carlos Montalván,
New York Times
bestselling author of 
Until Tuesday
"Dogtripping contains a lot of great words—but my favorite is the one that David Rosenfelt refuses to write. He does not know the meaning of 'unadoptable.' His dedication to dog rescue infuses every page with life's greatest lessons, of love and caring."—Kim Kavin, author of
Little Boy Blue
Advertisement