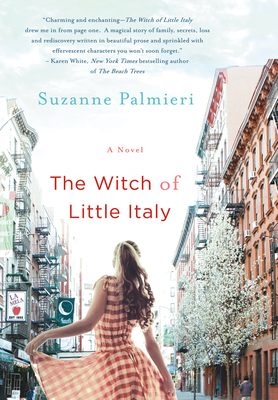 The Witch of Little Italy (Paperback)
A Novel
St. Martin's Griffin, 9781250015518, 320pp.
Publication Date: March 26, 2013
Other Editions of This Title:
Compact Disc (3/26/2013)
Compact Disc (3/26/2013)
MP3 CD (3/26/2013)
* Individual store prices may vary.
Description
In Suzanne Palmieri's charming debut, The Witch of Little Italy, you will be bewitched by the Amore women. When young Eleanor Amore finds herself pregnant, she returns home to her estranged family in the Bronx, called by "The Sight" they share now growing strong within her. She has only been back once before when she was ten years old during a wonder-filled summer of sun-drenched beaches, laughter and cartwheels. But everyone remembers that summer except her. Eleanor can't remember anything from before she left the house on her last day there. With her past now coming back to her in flashes, she becomes obsessed with recapturing those memories. Aided by her childhood sweetheart, she learns the secrets still haunting her magical family, secrets buried so deep they no longer know how they began. And, in the process, unlocks a mystery over fifty years old—The Day the Amores Died—and reveals, once and for all, a truth that will either heal or shatter the Amore clan.
About the Author
SUZANNE PALMIERI is the author of The Witch of Little Italy. She also writes as Suzanne Hayes and lives with her husband and three daughters in New Haven, Connecticut.
Praise For The Witch of Little Italy: A Novel…
"Palmieri's enthralling debut will make adult readers nostalgic for beloved books from their childhoods. Abundant with secrets, hidden passageways, magic and several enchanting mysteries, it'll keep you on the edge of your seat until the end. The magic and witchcraft elements are subtle, enhancing the over-all effect of this clever, beautiful novel." —RT Bookclub
"In her debut novel, Palmieri has combined romance and mystery, folklore and psychology to create a jigsaw puzzle of family secrets and tragedies, losses and loves, guilt and forgiveness....Entertaining." —Kirkus
"Charming and enchanting—The Witch of Little Italy drew me in from page one.  A magical story of family, secrets, loss and rediscovery written in beautiful prose and sprinkled with effervescent characters you won't soon forget.  Palmieri nimbly blends the past and present to concoct a delicious spell of a story that will appeal to fans of Sarah Addison Allen and other fabulously entertaining novels." —Karen White, New York Times bestselling author of The Beach Trees
"The Witch of Little Italy is a warmly enchanting debut that will have you believing in magic and craving homemade Buccatini Amatriciano." —Susanna Kearsley, New York Times author of The Winter Sea, Mariana and The Rose Garden
"I was utterly enchanted from the first page, and found myself continually marveling over the effortless grace with which this story unfolded. The Witch of Little Italy is a complex, richly textured tale that practically sings with magic, and I know Suzanne Palmieri has a long and brilliant career ahead of her. In a word: I was charmed." —Donna Ball, award winning author of The Lady Bug Farm series
"An enchanting debut, Palmieri's plot makes for a wickedly good read!" —Melissa de la Cruz, New York Times bestselling author of the Blue Bloods series
"The Witch of Little Italy had me spellbound from the very start. Suzanne Palmieri has created a poignant, beautiful tale of love, magic, history, and family where all are deeply connected and interwoven." —Joanne Rendell, author of Crossing Washington Square and The Professors' Wives' Club
"A mystical family secret hidden in a spicy Italian stew." —Kelly Simmons, author of Standing Still and The Bird House