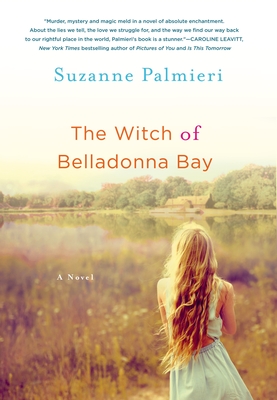 The Witch of Belladonna Bay (Paperback)
St. Martin's Griffin, 9781250015532, 350pp.
Publication Date: May 13, 2014
Description
"It's the trouble you aren't expecting that gets you. And it's all around you, Bronwyn, it's all around you like the air. "
""
Bronwyn "BitsyWyn" Whalen hasn't set eyes on the red dirt of Magnolia Creek, Alabama, for fourteen years - not since her mama died. But with her brother, Patrick, imprisoned for the murder of her childhood best friend, and her eccentric father, Jackson, at his wits' end while her eleven-year-old niece, Byrd, runs wild, Bronwyn finds herself once again surrounded by ancient magnolia trees and the troubled family she left behind. She becomes immersed in a whirlwind of mystery and magic as she tries to figure out what really happened that fateful night her friend died. And as her bond with Byrd deepens, Bronwyn must face the demons of her past in order to unravel her family's uncertain future.
In Suzanne Palmieri's thrilling new novel, "The Witch of Belladonna Bay," readers will learn if love and magic are enough to bring a broken family back together.
About the Author
Suzanne Palmieri is the author of The Witch of Little Italy. Writing as Suzanne Hayes, she is also the author of Empire Girls and I'll Be Seeing You. She lives with her husband and three daughters in Connecticut.
Praise For The Witch of Belladonna Bay…
"With a profound understanding of the ties that bind us through the generations and beyond the grave, Suzanne Palmieri has created some of the most emotionally resonant characters I've met in a long time. An enthralling tale of murder, magic, forgiveness, and redemption, The Witch of Belladonna Bay cast its southern spell on page one and hasn't released me yet." —Brunonia Barry, New York Times bestselling author of The Lace Reader and The Map of True Places
"Murder, mystery and magic meld in a novel of absolute enchantment. About the lies we tell, the love we struggle for, and the way we find our way back to our rightful place in the world, Palmieri's book is a stunner."—Caroline Leavitt, New York Times bestselling author of Pictures of You and Is This Tomorrow
"Ms. Palmieri's authentic dialogue, and ability to paint a family in crisis, is both charming and layered. If you're a lover of Southern fiction, magic in its many forms, and the kind of storytelling that keeps you turning the pages, you've come to the right place, y'all."—Lesley Kagen, New York Times bestselling author of Whistling in the Dark
"Magic weaves its way through this beguiling southern gothic, swirling from the moss-laden trees around the Big House through the misty and menacing Belladonna Bay, and settling into the hearts of Bronwyn and her niece, Byrd, whose Strange Ways most people just don't understand. Reminiscent of Sarah Addison Allen's Garden Spells, this bewitching tale of ghostly mystery, love and family ties will enchant you from the very first page and linger in the air around you long after the last."— Wendy Webb, bestselling author of The Fate of Mercy Alban
"All of Suzanne Palmieri's novels cast a spell, and The Witch of Belladonna Bay is no exception. Palmieri delivers a rich and magical story about the two most powerful forces in life: family and love."—Elin Hilderbrand, author of Beautiful Day
"Suzanne Palmieri has crafted a riveting tale that will keep you up late at night guessing what will happen next. It is a story that will intrigue both male and female readers. Guys, don't let this one slip past you."—Jason Mott, New York Times bestselling author of The Returned
Advertisement