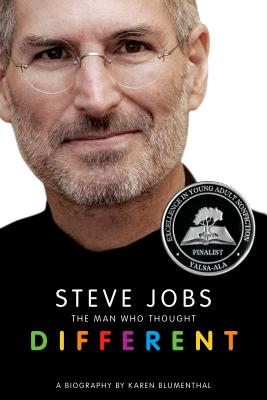 Steve Jobs (Hardcover)
The Man Who Thought Different: A Biography
Feiwel & Friends, 9781250015570, 320pp.
Publication Date: February 14, 2012
* Individual store prices may vary.
Description
A riveting biography of the groundbreaking innovator who was a giant in the worlds of computing, music, filmmaking, design, smart phones, and more. A finalist for the YALSA Excellence in Nonfiction Award!
"Your time is limited. . . . have the courage to follow your heart and intuition." —Steve Jobs
From the start, his path was never predictable. Steve Jobs was given up for adoption at birth, dropped out of college after one semester, and at the age of twenty, created Apple in his parents' garage with his friend Steve Wozniack.
Then came the core and hallmark of his genius—his exacting moderation for perfection, his counterculture life approach, and his level of taste and style that pushed all boundaries. A devoted husband, father, and Buddhist, he battled cancer for over a decade, became the ultimate CEO, and made the world want every product he touched, from the Macintosh to the iPhone, from iTunes and the iPod to the Macbook.
Critically acclaimed author Karen Blumenthal takes us to the core of this complicated and legendary man while simultaneously exploring the evolution of computers. Framed by Jobs' inspirational Stanford commencement speech and illustrated throughout with black and white photos, this is the story of the man who changed our world.
Read more thrilling nonfiction by Karen Blumenthal:
Hillary Rodham Clinton: A Woman Living History (A YALSA Excellence in Nonfiction Award Finalist)
Bootleg: Murder, Moonshine, and the Lawless Years of Prohibition
Tommy: The Gun That Changed America
Praise for Steve Jobs: The Man Who Thought Different: A Biography:

"This is a smart book about a smart subject by a smart writer." —Booklist, starred review
"Students who know Steve Jobs only through Apple's iTunes, iPhones, and iPads will have their eyes opened by this accessible and well-written biography." —VOYA

"An engaging and intimate portrait. Few biographies for young readers feel as relevant and current as this one does." —The Horn Book Magazine

"A perceptive, well-wrought picture of an iconic figure." —Kirkus Reviews

"Blumenthal crafts an insightful, balanced portrait." —Publishers Weekly
About the Author
Karen Blumenthal is an award-winning children's non-fiction writer and a long-time journalist. Her book Bootleg: Murder, Moonshine, and the Lawless Years of Prohibition received four starred reviews and was a finalist for the YALSA Excellence in Nonfiction for Young Adults Award. Later, Six Days in October: The Stock Market Crash of 1929, was named a Sibert Honor Book, and Let Me Play: The Story of Title IX, won a Jane Addams Children's Book Award. Karen's recent book, Tommy: The Gun That Changed America, explores the history and controversy of the famous and deadly Tommy gun. She lives in Dallas, Texas.
Praise For Steve Jobs: The Man Who Thought Different: A Biography…
"This is a smart book about a smart subject by a smart writer." —Booklist, starred review
"Students who know Steve Jobs only through Apple's iTunes, iPhones, and iPads will have their eyes opened by this accessible and well-written biography." —VOYA
"An engaging and intimate portrait. Few biographies for young readers feel as relevant and current as this one does." —The Horn Book Magazine
"A perceptive, well-wrought picture of an iconic figure." —Kirkus Reviews
"Blumenthal crafts an insightful, balanced portrait." —Publishers Weekly