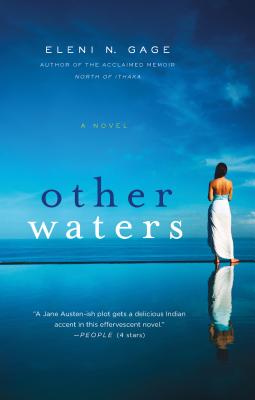 Other Waters (Paperback)
Griffin, 9781250015747, 352pp.
Publication Date: October 16, 2012
Description
"A Jane Austen-ish plot gets a delicious Indian accent in this effervescent novel by former PEOPLE editor Gage . . . in this exotic, mysterious setting, cultures collide, love grows more complicated and
Maya finally discovers just whom and where she is really meant to be." --"People," ****
Maya is an accomplished psychiatric resident with a supportive boyfriend, loving family, and bustling New York social life. When her grandmother dies in India, a family squabble over property ignites a curse that drifts across continents and threatens Maya's life. Or so her father says-- Maya (being a modern woman, an American, and a doctor) doesn't believe in curses, Brahman, or otherwise. But then a series of calamities befalls her family, her career and relationship both falter, and Maya starts to worry. She hopes a trip back to India with her best friend, Heidi, will enable her to remove the curse, save her family, and put her own life back in order. Thus begins a journey into Maya's parallel worlds-- New York and an India filled with loving and annoying relatives, vivid colors, and superstitious customs she doesn't, and does, believe in. But her time in India isn't just a visit "home" or a chance to explore the strengthening and suffocating bonds of family, it's also the beginning of a cathartic quest toward forging one identity out of two cultures.
About the Author
ELENI N. GAGE has contributed to The New York Times, Travel+Leisure, Real Simple, InStyle and Parade. A graduate of Harvard University and Columbia University's MFA Program, Eleni now lives in Miami Beach, Florida with her husband and daughter.
Praise For Other Waters…
Praise for Other Waters:
"A Jane Austen-ish plot gets a delicious Indian accent in this effervescent novel by former PEOPLE editor Gage . . . in this exotic, mysterious setting, cultures collide, love grows more complicated and Maya finally discovers just whom – and where – she is really meant to be." --People, reviewed by Caroline Leavitt, four out of four stars
"The sensuous textures in this tale about Maya Das, an Indian-American psychiatry resident, seduced readers." --Elle
"Can goddesses walk among us? Can an entire family really be cursed? Can a modern woman find her inner goddess? Gage beautifully describes the waters that evoke the transformative moments of Maya's journey. . . A lovely read."  --Kirkus
"Gage makes a splendid fiction debut full of believable, fully developed characters and situations and set against exotic backgrounds. Readers who want to be swept away to far-off places will enjoy this book." --Library Journal
"In a first novel of impressive ambition, this fine young writer dives into deep waters, giving the reader a story that explores the tug of family ties that occasionally feel more like shackles, the legacy of a  culture that both nourishes the soul, and curses it. Writing with assurance and an unblinking eye for the telling detail, Gage explores what it means to be a woman of two cultures, and sometimes of neither. Other Waters is a story that manages to be deeply satisfying in its description of a foreign land and at the same time, universal in what it tells us about family, culture, and the quest—that knows no geographic boundaries—for love." --Joyce Maynard, New York Times bestselling author of Labor Day
"The best novels are those that invite you into an utterly believable world of entirely authentic people in situations about which you care instantly. Gage's beguiling narrative talent is in splendid evidence in OTHER WATERS, making this fiction debut one of those enthralling novels."  -- Katharine Weber, author of The Memory of All That, True Confections,and Triangle, among others
"Writing with rich, elegant detail, Eleni N. Gage proves herself an expert and insightful chronicler of both the new India, and of the women whose hearts and minds are caught in the transition." – Samuel Park author of This Burns My Heart
"Gage has written an appealing story, and she moves between cultures easily; perfectly placed details allow readers to feel comfortable as characters travel between work, home and family (both along the East Coast and in India). Appreciative readers will enjoy Other Waters, and may find themselves looking forward to Gage's futures works as well . . . An impressive exploration of cultural divides between a young woman and her loves ones in the U.S. and India." --Shelf Awareness, Reader's Edition
Praise for North of Ithaka:"Eleni Gage's prose, like the characters in her ancestral village in Greece, bursts with life. Warm, energetic, and ready for anything, Gage is just the sort of person anyone would want to visit--and when she welcomes you into her grandmother's house, her understanding of the porous boundary between comedy and tragedy grants you pleasure when you laugh and catharsis when you weep." --Anne Fadiman, author of The Spirit Catches You and You Fall Down "Gage's vivid personal account captures the seasonal rhythms and everyday dramas of Greek life beyond the familiar resort islands, revealing a place that is, in the most traditional sense, old world." --Travel + Leisure "Inbued with forgiveness, with the rebuilding of lives and houses, and moving on from tragedy." -- The Times Literary Supplement "A brilliant story ... an interesting saga of immigration, belonging, and community." -- The Observer (UK) "Pleasantly honest, often amusing ... she treats tradition with respect and history with realism." --The Wall Street Journal    
Advertisement