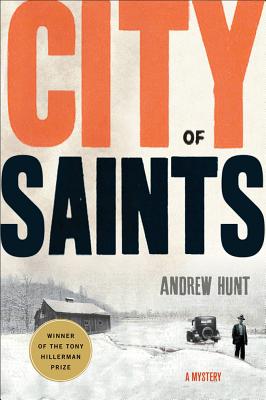 City of Saints (Hardcover)
Minotaur Books, 9781250015792, 321pp.
Publication Date: October 30, 2012
Description
To the outside observer, Salt Lake City might seem to be the squeaky-clean "City of Saints" its nickname since Mormon pioneers first arrived. Its wide roads, huge Mormon temple topped by a horn-blowing angel, and orderly neighborhoods give it the appearance of the ideal American city, but looks can be deceiving.
When a beautiful socialite turns up dead, Art Oveson, a twenty-something husband, father, and devout Mormon just getting his start as a sheriff's deputy, finds himself thrust into the role of detective. With his partner, a foul-mouthed former strikebreaker, he begins to pursue the murderer or murderers. His search takes him into the underbelly of Salt Lake City, a place rife with blackmail, corruption, and death.
Based on a true yet largely forgotten murder that once captivated the nation but still remains unsolved eighty years later, City of Saints reveals a darker picture of the Mormon capital than you ever expected.
About the Author
ANDREW HUNT is a professor of history in Waterloo, Ontario. His areas of study include post-1945 U.S. History, the Civil Rights Movement, the Vietnam War, and the American West. He has written reviews for The Globe and Mail and The National Post, authored two works of nonfiction, The Turning and David Dellinger, and is coauthor of The 1980s. He grew up in Salt Lake City and currently lives in Canada.
Praise For City of Saints…
A Sun Sentinel Best Mystery Debut of the Year
"Andrew Hunt makes a hell of an impressive debut with City of Saints. Art Oveson is a truly unique character on the crime fiction landscape, a young, inexperienced Mormon lawman headed down streets no one would ever suspect were so mean. The Utah landscape is rugged and beautiful and the 1930s setting make this novel an irresistible read. Think a Black Mask classic directed by John Sayles and you'll get the idea."

—Ace Atkins, New York Times bestselling author of The Lost Ones

"City of Saints is the best debut novel you'll read this year, maybe any year.  It's got everything a great crime novel should have: a complicated mystery, a protagonist you root for, a place and time beautifully evoked, and an emotional intensity that often leaves you breathless.  His first time at bat, Andrew Hunt has hit one way out of the ballpark."

—William Kent Krueger, New York Times-bestselling author of Northwest Angle

"City of Saints is a terrific detective story set in Salt Lake City in the 1930s. It features a twisty, brilliant plot, great insight and historical richness regarding an area few of us know much about. Like Tony Hillerman in New Mexico, Hunt has made his old home town his own."

—Robert Ward, author of Four Kinds of Rain
"Set in 1930, Hunt's triumphant mystery debut introduces Salt Lake County deputy Art Oveson, a loving family man and committed Mormon. … Winner of the 2011 Hillerman Prize, this hard-edged whodunit with echoes of James Ellroy warrants a sequel."
—Publishers Weekly (starred review)
"This engrossing historical debut is set in 1930 Salt Lake City and based on a true case. Narrated … in the first person, the procedural steadily builds up steam and explodes in all the right places. History professor Hunt's title won the 2011 Tony Hillerman Prize. Pair with Sheldon Russell and Lisa Black."
—Library Journal (starred review)
"Hunt's first-person narrative in this gritty mystery is spot on and conjures up a disturbing portrait of Salt Lake's criminal underbelly in the midst of the Great Depression."
—Deseret News
"Terrific. … Set in Salt Lake City in 1930 and based on the real-life murder of a wealthy socialite and aspiring Hollywood actress, the novel reveals a world of political pandering and murderous machinations that we usually associate with Chicago from this period."
—Milwaukee Journal Sentinel
"For any mystery fan this novel is absolutely worth the read."
—The Imprint
"Andrew Hunt steeps his debut in the history of both Salt Lake City and nearby towns as it richly explores the people who settled there and the residents of the early 20th century. Hunt also explores how a person with a deep religious faith lives in an increasingly secular world. Hunt skillfully weaves all that and more, making City of Saints a first-class mystery."
—Sun Sentinel
"An outstanding historical mystery. … Lovers of fast-paced historical noir will definitely want to read Andrew Hunt's superb City of Saints. Its unique hero, unusual locale, high body count, and intriguing mystery make it a must read."
—Gumshoe Review
"An excellent historical novel."
—The Globe & Mail
"Hunt, a history professor at the University of Waterloo, uses the long-forgotten but once headline-making murder of a 1930s-era Salt Lake City socialite as his narrative base, mixing in a terrifically paced plot and a memorable policeman hero. … City of Saints is full of juicy twists that go deep into Mormon doctrine and travel as far as Hollywood."
—Sarah Weinman, National Post
"Hunt grew up in Salt Lake City and paints a vivid portrait of the 'city of saints' in the 1930s, the tension between Mormon and non-Mormon, as straight-arrow sheriff's deputy Art Oveson investigates the brutal murder of a doctor's wife and stumbles into a cesspool of corruption and blackmail."
—Buffalo News
"Loosely based on an actual murder case, this is a novel, but it's as compelling as the real thing."
—The Facts
Advertisement