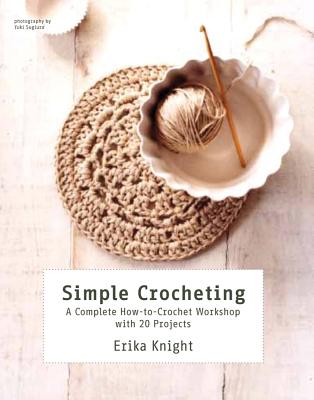 Simple Crocheting
A Complete How-to-Crochet Workshop with 20 Projects (Knit & Crochet)
Paperback

* Individual store prices may vary.
Description
Simple Crocheting is the perfect book for the beginner. Under Erika Knight's guidance even those who have never picked up a crochet hook before will soon be making gorgeous projects and all the while learning new techniques and adding to their skills. Each of the 20 projects in the book will teach you a new stitch, technique, or trick. And with each pattern you complete, you will build on and consolidate crochet techniques already learned in the preceding projects, until you have mastered a wide repertoire of skills and completed and enviable collection of crocheted items.

Simple Crocheting showcases the incredible variety of finishes that different crochet techniques can produce. Erika begins with simple scarves and hats that are chic accessories as well as being the perfet items to practice basic stitches. She then takes you through the dense textures of double and treble crochet---which make excellent bags, purses, and even a laptop case---and then moves on to the more intricate, deilcate lace and cluster stitches---perfect for heirloom shawls and antique-style cushions. Freeform or random crochet takes the craft to a more demanding level and projects like the edge-to-edge cardigan will provide a new challenge for all creative crocheters.

With exquisite photography by Yuki Sugiura that perfectly shows each of the beautiful designs, and supported with clear diagrams and illustrations, Erika Knight has created the ultimate book for all enthusiasts of this remarkable craft.
Praise For Simple Crocheting: A Complete How-to-Crochet Workshop with 20 Projects (Knit & Crochet)…
"Erika Knight..brings her clean, unfussy design sensibility to crochet. The book aims at beginner-level crocheters, but the projects will entice even the advanced among us." —Interweave Crochet

"Too often, crochet books veer toward amigurumi-cute or unfashionably retro, so Knight's intelligent, modern introduction to crochet is especially welcome." —Nannete Donohue, Library Journal

"Each new stitch, trick or technique that you learn from the twenty projects will make you a more skilled crocheter.... This is an easy-to-follow how-to crochet book. The projects are stylish and you will learn about a lot about crocheting. If you enjoy both crocheting and knitting, " —Paula Moliver, examiner.com

"These projects give anyone a chance to hone their skills while learning new stitches, techniques, or tricks." —Quick & Easy Crochet

"[Simple Corcheting] has so many projects I want to try.... The photography and graphics are so clear for each step. This book makes me want to learn even more about crocehting." —Sew Spoiled blog

"The projects in this book are simple yet sophisticated, and could serve as the starting point to a new craft. Her goal with this book is to simplify and communicate her passion for crochet with accessible yet enticing projects that are good for beginners through master levels.... Simple Crocheting is not just a book of how-to's, Erika shares design principles like building a color palette and other unique design secrets. I'm happy to include this in my growing craft library." —Pulp Sushi blog

"If you are a beginner who is inspired by the look of well photographed projects, this might be the beginner crochet book for you." —Underground Crafter blog
St. Martin's Griffin, 9781250016218, 144pp.
Publication Date: June 19, 2012
About the Author
ERIKA KNIGHT is a highly-respected knitwear and crochet designer, as well as a consultant to the fashion and yarn industries. With her "simple" ethos, Erika has a unique interpretation of craft; her mission is to simplify and communicate her insight and passion for knitting and crochet with accessible yet enticing projects in order to inspire everyone to experiment and, above all, enjoy creating.

Erika has recently launched her own capsule collection of high-quality hand-knit yarns, which are all sheared, scoured, and spun in England. As you would expect from this talented designer, the texture and color are truly special. Erika is the author of numerous highly-acclaimed knitting and crochet books, including Simple Knitting and Natural Nursery Knits.
or
Not Currently Available for Direct Purchase