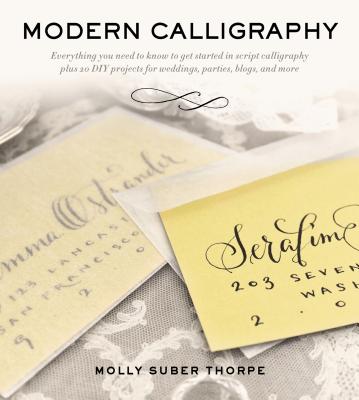 Modern Calligraphy (Paperback)
Everything You Need to Know to Get Started in Script Calligraphy
St. Martin's Griffin, 9781250016324, 192pp.
Publication Date: September 24, 2013
* Individual store prices may vary.
Description
A perfect gift for anyone who wants to learn the "write" way to craft calligraphy.
Calligraphy is about creating something uniquely beautiful, whether to celebrate a special occasion like marriage or to use every day in the form of stationery. Author Molly Suber Thorpe, an award-winning wedding invitation designer and calligrapher based in Los Angeles, works closely with her international clients to give them the distinctive products they're looking for.
In Modern Calligraphy, you can learn from this experienced expert how to master this fresh modern lettering style. The first book to teach this bold new style breaks the calligraphy process down into simple steps so anyone can learn to create their own stunning wedding invitations, thank you cards, gift tags, and more. Starting with an overview of the supplies—from paper to ink to pens—you will learn how to form letters, words, and then phrases by following Molly's clear step-by-step instructions, and by practicing with the provided templates. After mastering letter forms using a pointed pen and ink you can take it to the next level by learning how to use watercolor and gouache, or how to digitize your calligraphy.
The twenty projects in the book provide lots of inspiration for making your own and are grouped into three sections: weddings, entertainment, and personal stationery. With loads of ideas, practice exercises, and helpful tips, soon you will be turning out gorgeous script calligraphy pieces like the ones featured in wedding magazines and popular websites like Pinterest.
About the Author
MOLLY SUBER THORPE is a hand lettering artist whose focus is on branding and editorial calligraphy work. She is credited as a driving force behind the modern calligraphy movement, being among the first artists to use the whimsical, unorthodox pointed pen styles and bold color palettes so popular today. Clients hire Molly for a variety of projects, including hand-lettered logos, envelope calligraphy, custom stationery, and even tattoos.
Modern Calligraphy: Everything You Need to Know to Get Started in Script Calligraphy (St. Martin's Griffin, 2013), has been translated into Chinese and Spanish, and was named one of 2013's "Favorite Craft Books" by Amazon. Molly's second book, The Calligrapher's Business Handbook: Pricing and Policies for Lettering Artists (Calligrafile Press, 2017), guides hand letterers to develop a thriving freelance career, and has been an Amazon Bestseller in the Calligraphy and Business of Art categories.
Molly's extensive client list includes Google Arts & Culture, Martha Stewart Weddings, Michael Kors, Fendi, AARP, J. Jill, and Victorio & Lucchino. Her work and words have appeared in dozens of publications, including UPPERCASE, Martha Stewart Living, The Wall Street Journal, LA Times, The Guardian, Buzzfeed, Bound & Lettered, Country Living, Style Me Pretty, Design*Sponge, and Snippet & Ink.
Molly also loves to teach. In addition to conducting in-person calligraphy workshops in the United States and Europe, Molly is a Top Teacher on the Skillshare.com platform, with over half a million minutes of watch time since her first Skillshare class launched in 2013.
In 2016, Molly founded Calligrafile.com, a curated database of resource links and products for calligraphers, hand lettering artists, type enthusiasts, and creative freelancers. It is the largest site of its kind, with over two dozen contributing artists, and thousands of participants from around the world.
Praise For Modern Calligraphy: Everything You Need to Know to Get Started in Script Calligraphy…
Praise for Modern Calligraphy
"My final verdict on Modern Calligraphy? I. Love. It. If you want to be inspired, you've got to buy this book (it's the best $25 you'll spend on your calligraphy skills)."— Lindsay Bugbee, The Postman's Knock
"Molly Suber Thorpe deconstructs her modern style script for those brand new to calligraphy. Complete with exemplars, supply descriptions, instructions, and projects, it is a great starting point for those wanting to develop their own style of pointed pen writing. Creative, fresh, and lovely, this is a book you won't regret adding to your library!"— Paper & Ink Arts
"Teaches Molly's bold style of Copperplate that looks stylish and fresh, yet still refined. After an overview of supplies, you learn letters, words, then phrases with the clear instructions and exemplars. You then learn how to write with gouache and watercolor and how to digitize your calligraphy for printed items. The 20 projects provide inspiration for weddings, entertainment, and personal stationery. The final section is practical info for the working scribe, including strategies for large-batch projects and hints for left-handers."— John Neal Bookseller
Praise for The Calligrapher's Business Handbook
"This new book should be a staple in the library of any calligrapher who wishes to pursue the art as a business. It is simply a wealth of useful and practical information. ... This is a volume that certainly should not be missed!"— Paper & Ink Arts
"If you're interested in making some income from your dip pen talent, I highly recommend The Calligrapher's Business Handbook! When you have a moment to read it, you'll want to dig in with a highlighter in hand. Molly's transparency about pricing and process is unrivaled, and I think that a lot of calligraphy businesses will get a running start because of her generosity in sharing information."— Lindsay Bugbee, The Postman's Knock
Praise for Molly's work
"Molly has reinvented the art of calligraphy! There is nothing more exciting than receiving an envelope in the mail that was calligraphed by Molly. Her playful and charming script makes such a statement and her envelopes instantly become treasures (not trash)!"?Cheree Berry, Cheree Berry Paper and former Kate Spade designer
"We love the bouncy, joyous, juicy quality of Molly's calligraphy. It's so lovely and fun and such a celebratory take on modern lettering."— 100 Layer Cake
"I'm met with an appeased feeling when I see calligraphy with personality; when a lettering style and a colour palette paint a picture in your head of what the person would be like as you look at it. When I first came across the work of Molly Suber Thorpe, I got that feeling. What captured my attention was how unique each project felt. Some sincerely whimsical, while others strikingly sophisticated. Molly works closely with individuals to ensure their desires are met, creating beautiful calligraphy for her clients."— Julie Doan, Oh So Beautiful Paper
"Molly Suber Thorpe is a marvel: her work is creative, fun, full of energy, and marked with personal style." ?Ashley Maddox, Where I'd Stay blog