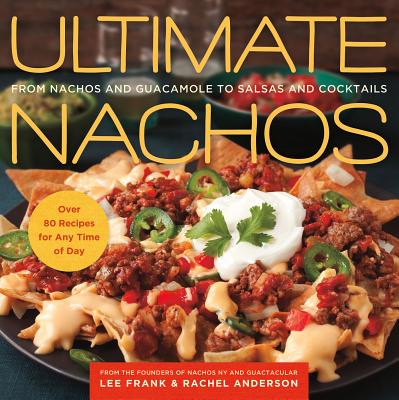 Ultimate Nachos (Paperback)
From Nachos and Guacamole to Salsas and Cocktails
St. Martin's Griffin, 9781250016546, 144pp.
Publication Date: April 23, 2013
* Individual store prices may vary.
Description
Nachos are the ultimate comfort food and the extreme guilty pleasure. As the team behind Nachos NY, authors Lee Frank and Rachel Anderson have set off on a mission to reinvent the nacho and elevate it from its status as neon-yellow-cheese-smothered snack food to delectable gooey treats to dig into and share with friends.
As Nachos NY, Frank and Anderson have put their extensive nacho knowledge to work and show you how to play off the flexibility of the nacho with eighty-four creative recipes that are inspired by comfort foods and international flavors. From making homemade tortilla chips, to whipping up Avocado Horseradish Crema, and mixing up delicious margaritas, the recipes in this book provide you with everything you need to throw a Mexican fiesta with a twist! Recipes include:
- Fried Calamari Nachos
- Croque Monsieur Nachos
- Philly Cheesesteak
- Roasted Beet, Apple, and Goat Cheese
- Pork Ginger- Poached Pear Gorgonzola Dessert Nachos
- and much more!
With recipes contributed by Guactacular contest winners, Ivy Stark of Dos Caminos, The Brooklyn Salsa Company, Hugo Ortega, J. Kenji Lopez-Alt of Serious Eats, and Melissa Clark of The New York Times, this book will have you cooking sweet and savory recipes all year round at backyard bbqs, on Super Bowl Sunday, or for Tex-Mex night with the family.
And, of course, nachos aren't complete without salsa, guacamole, and queso. A range of sauces to dip into and drizzle on to your chips are provided, including Clementine Pico de Gallo, Bacon Apple Guac, Mango Chipotle Sauce, and much more! Then pair your nachos with the complementary drink recipes for margaritas, horchata, and sangria and throw yourself a real fiesta!
About the Author
LEE FRANK is the founder and managing editor of Nachos NY and has been featured in Food Republic, Heeb Magazine, and on Good Day Sacramento. He is the e-commerce manager for Marimekko

RACHEL ANDERSON is the chef de cuisine at Robicelli's Bakery, a pastry assistant at al di la, and a baker at Ovenly. She is co-author of the cookbook Ultimate Nachos.
Praise For Ultimate Nachos: From Nachos and Guacamole to Salsas and Cocktails…
"The books [has] fun photos, cute tips, and easy to follow instructions. One look and we're already reaching for the chips." —The Latin Kitchen blog
"What could be more fun than a plate of nachos? I say an entire book filled with irresistible recipes for everyone's favorite crunchy-spicy snack. Lee and Rachel share their best creations, from the deliciously familiar to the enticingly creative, including everything you can think of to go with them. ¡Muchas gracías!" —Rick Rodgers, Bon Appetit contributor and author of Dip It! and Thanksgiving 101
"Traditionalists have always looked down on nachos. As a born and raised Mexican, I know I did my fair share of scoffing. But with Ultimate Nachos, Lee and Rachel remind us all that when people feel real passion for a dish, whether it's traditional or not, it can become a thing of beauty" —Roberto Santibanez, author of Truly Mexican and Tacos, Tortas and Tamales, and owner of Fonda
"Ultimate Nachos is the kind of book you will use endlessly for any and all types of nacho cravings. Whether it's nachos for breakfast, late-night, or even dessert, Ultimate Nachos delivers playful and fun twists on the classic, yielding results so delicious you'll never be able to scarf down those sad movie theater nachos ever again." —Adrianna Adarme, author of Pancakes and founder of A Cozy Kitchen blog