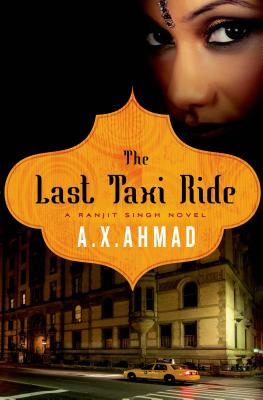 The Last Taxi Ride (Hardcover)
Minotaur Books, 9781250016867, 361pp.
Publication Date: June 24, 2014
* Individual store prices may vary.
or
Not Currently Available for Direct Purchase
Description
New York City taxi driver Ranjit Singh, hero of A.X. Ahmad's heralded debut "The Caretaker, " has 10 days to prove his innocence...
Bollywood film icon Shabana Shah has been murdered, her body found in the apartment where Ranjit ate dinner mere hours before. Ranjit's fingerprints are all over the murder weapon, a statue of the elephant god Ganesh used to grotesquely smash the actress' beautiful face. Caught on film leaving the apartment alone, Ranjit is accused by the NYPD as an accessory to murder.
Ranjit's only credible alibi is Shabana's Indian doorman, but he has vanished. With a Grand Jury arraignment looming in 10 days, and Ranjit's teenage daughter about to arrive from India, he must find the doorman. His search through the underbelly of New York leads to the world of high-end nightclub owners, back-alley Mumbai gangsters and to Jay Patel, a shady businessman who imports human hair. As his investigation for the true killer reveals layers of Shabana Shah's hidden past, Ranjit does not know whom to trust. He can rely only on his army training, his taxi-driver knowledge of New York, and his cabbie friends.
With time quickly running out, can Ranjit clear his name before his fare is up? "The Last Taxi Ride" is the second novel in the Ranjit Singh trilogy.
About the Author
A. X. AHMAD was raised in India, educated at Vassar College and M.I.T., and worked for many years as an international architect. He splits his time between Washington, D.C. and Brooklyn, New York, and is also the author of The Caretaker.
Praise For The Last Taxi Ride…
Praise for THE LAST TAXI RIDE:


"Wow!  Barely had time to fasten my seatbelt.  A.X Ahmad takes us on a breathtaking roller-coaster ride through an underworld most of us would never guess existed."—Peter May, author of The Lewis Trilogy


"'A house in India is not filled with things, is not a display of personal tastes and preferences; it is a stage for life to happen . . .'
And life happens, blazingly, in The Last Taxi Ride.  A.X. Ahmad's protagonist, Ranjit Singh, is a Sikh and a former officer of the Indian army, a man who ranges the streets of Manhattan in a taxi cab and yet maintains the sensibilities of a vastly alien culture; a man who aims his laser-like vision at those same mean streets, forever changing our view of their chaos and pain.  A stunningly fine novel.  Noir as seen through a shimmering jewel, held up as an offering to Shiva." —Martin Limon, author of Nightmare Range
"I couldn't stop reading this beautiful, realistic and riveting second novel featuring Ranjit Singh. The novel takes the reader deep into New York's largely unseen immigrant world as well as the cutthroat backstage of the Bollywood film industry.  
The Last Taxi
is one hell of a ride and A.X. Ahmad's strongest book to date." —Sujata Massey, author of
The Sleeping Dictionary

"Ranjit Singh, a former Indian Army Captain, is one tough Sikh who finds himself driving a cab in New York City. When an aging Indian movie star is murdered, Singh takes us on a harrowing ride through the desperate streets of Hindi Jackson Heights and Little Guyana to the glittering Bollywood backlots and the underworld of the Mumbai mafia. Full of action and surprises, The Last Taxi Ride is a dark slice of New York's South Asian demimonde, and author A.X. Ahmad knows the turf well. You can almost taste the roti and the kaali-daal, and readers will surely be hailing the next ride." —Henry Chang, author of Chinatown Beat and Year of the Dog

Praise for THE CARETAKER:
 "...Exciting and involving." —
Wall Street Journal
 "...A novel that looks at race and culture and the changing face of America. It's a story that's easy to devour but hard to forget — and one that cries out for a sequel." —
Richmond Times-Dispatch
 "This fine thriller debut views disturbing political realism through the lens of Ranjit Singh, a newly immigrated Sikh fleeing danger in India after a politically explosive mistake ends his military career...a cynically smart political thriller that draws parallels of political expediency between Washington deal-brokering and Ranjit's tragic past. [A] masterfully crafted, high-adrenaline story." —
Booklist
(starred review) "Combinations of the familiar and the unfamiliar provide a read that moves beyond standard thriller fare. Weaving together Singh's Sikh faith with very personal moments, taut action sequences, and events with international significance, Ahmad's thriller should have broad appeal." —
Library Journal
(starred review)  "Ahmad debuts with a fast-paced literary thriller, shifting action from the desolate ice-clad Siachen glacier separating India and Pakistan to the posh environs of Marthay's Vineyard. . . . Top-notch effort in the first of a promising trilogy." —
Kirkus Reviews
 "Poignant. . . . A finely textured story of bravery and knavery." —
Publishers Weekly
 "
The Caretaker
weaves a compelling story, beguiling characters, and two exotic locales into a suspenseful whole. A wonderful debut." —
New York Times
bestselling author Richard North Patterson "Refreshing, sexy and heart-felt. Ranjit Singh [is] an original, complex hero for an uncertain, complicated time." —
New York Times
bestselling author Lisa Brackmann
Advertisement