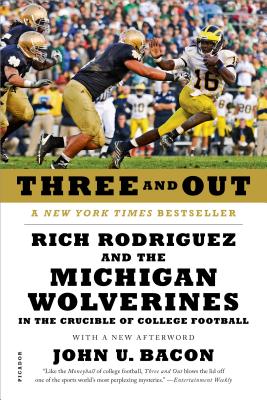 Three and Out: Rich Rodriguez and the Michigan Wolverines in the Crucible of College Football (Paperback)
Rich Rodriguez and the Michigan Wolverines in the Crucible of College Football
Picador USA, 9781250016973, 450pp.
Publication Date: August 21, 2012
Description
"Like the Moneyball of college football, Three and Out blows the lid off one of the sports world's most perplexing mysteries." Entertainment Weekly
"Three and Out" tells the story of how college football's most influential coach, Rich Rodriguez, took over the nation's most successful program, only to produce three of the worst seasons in the University of Michigan's celebrated history. Coach Rich Rodriguez granted author and journalist John U. Bacon unrestricted access to the Michigan Wolverines' program. Bacon saw it all, from the meals and the meetings, to the practices and the games, to the sidelines and the locker rooms. Nothing and no one was off-limits. John U. Bacon's "Three and Out" is the definitive account of a football marriage seemingly made in heaven that broke up after just three years, and exposes the best and the worst of college football.
About the Author
John U. Bacon has written for Time, the New York Times, and ESPN Magazine, among other publications, earning national honors. He is the author of several books on sports and business, including Bo's Lasting Lessons (with Bo Schembechler), a New York Times and Wall Street Journal business bestseller. Bacon teaches at Northwestern University and the University of Michigan and is a popular public speaker.
Praise For Three and Out: Rich Rodriguez and the Michigan Wolverines in the Crucible of College Football…
"College basketball has A Season on the Brink. High school football has Friday Night Lights. Now college football has Three and Out….It will surprise even hard-core fans. If you care about college football, you'll want this book."—Adam Schefter, ESPN "An epic piece of reporting behind the scenes of a college football program going to hell."—New York Magazine "Sets a new standard for books about college sports…A great read."—Alex Ashlock, NPR's "Here & Now" "One of the most riveting nonfiction works I've read in years, in any genre. The eyewitness details from the locker room, the sidelines, and the most powerful offices on a college campus are breathtaking….John U. Bacon is one of the best reporters of my generation."—David Shuster, Emmy Award--winning broadcast journalist "John U. Bacon's report on the weird world of college football is eye-opening, and occasionally jaw-dropping."—George F. Will
Advertisement