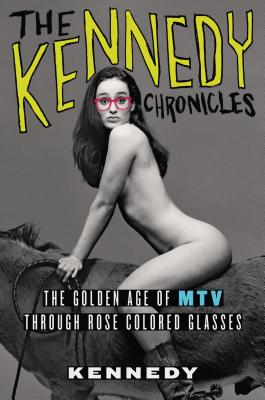 The Kennedy Chronicles (Hardcover)
The Golden Age of MTV Through Rose-Colored Glasses
Thomas Dunne Books, 9781250017475, 326pp.
Publication Date: July 30, 2013
* Individual store prices may vary.
Description
Kennedy's off-the-wall memoir reliving the pop music and the madness as an MTV VJ in the 1990s
""I am Kennedy from MTV, and no matter where I go someone has a story to tell me about the time we grew up together.""
Known to millions simply by her middle name, Kennedy helped bring the cutting edge of culture into our living rooms during the 1990s through her outrageous segments as an MTV VJ, host of "Alternative Nation," and on-the-spot correspondent for MTV News. She interviewed everyone from fame-averse Seattle rock musicians to vapid celebrities and politicians, asking the taboo questions no one else would as she navigated between true artists and phony poseurs. In "The Kennedy Chronicles," she gives us a backstage pass at the last golden years of the cable network that defined a generation.
As only Kennedy can, she takes us back to unforgettable moments such as Nirvana's seminal performance on "MTV Unplugged," the unbridled bacchanalia of the MTV Beach House and Woodstock '94 festival, and the game-changing "Rock the Vote" campaign. We read of priceless moments on and off set with such performers as Bjork, Pearl Jam, Weezer, No Doubt, Nine Inch Nails, Radiohead, Oasis, and the Red Hot Chili Peppers. And Kennedy dishes on behind-the-scenes antics with MTV colleagues including Jon Stewart, Bill Bellamy, Kurt Loder, and Tabitha Soren.
Straddling the line between witness and participant, Kennedy recounts a blitz of surreal encounters: Dragging Stewart to a strip club. Getting naked with Jenny McCarthy. Playing dice on the men's room floor with Michael Jordan. Wrestling with Trent Reznor. Taking "Puck" Rainey from "The Real World" to church and living to regret it. Making out in a coffin with Dave Navarro. Dodging calls from Courtney Love. Serving as John Rzeznik's muse for the Goo Goo Dolls hit song "Name." And there was that incident with New York Mayor Rudy Giuliani at the Video Music Awards. Finally, Kennedy intersperses her riotous narrative with priceless, candid interviews with Navarro, Henry Rollins, Billy Corgan, Pat Smear of Nirvana, Matt Cameron of Soundgarden and Pearl Jam, former VJ John Sencio, and more.
In her characteristically edgy and irreverent voice, Kennedy delivers a juicy and revealing narrative perfect for Gen X and beyond and for anyone who wants to know what "really" went on at MTV.
About the Author
At twenty years old, KENNEDY became an MTV VJ, a position she held for nearly six years interviewing a range of celebrities on MTV News and at events like the Grammys and VMAs, as well as hosted a series of specials called "How-To With Kennedy." Featured as a pop-culture/political pundit on Fox Business Network, Fox News Channel and TV Guide Network, E! and VH1, she now hosts Music in the Morning with Kennedy on 98.7 FM, one of the biggest alternative radio station in the country, and joins Discovery's hit show "Pitchmen."
Praise For The Kennedy Chronicles: The Golden Age of MTV Through Rose-Colored Glasses…
"A backstage look at [VJ Kennedy's] glory years….The book is chock-full of excerpts from her many on-air (and off-the-record) interviews, where she perfected her signature style of "striking a balance between being the girl who will do what takes to get a laugh and the devil that can't be trusted." She dishes about her encounters with a huge range of '90s music culture heroes, including Henry Rollins, Courtney Love, and Dweezil Zappa, as well as her MTV colleagues such as news reporter Tabitha Soren "
—Publishers Weekly

"Kennedy brought a sweet, sharp, daffy intelligence to MTV that could never be replaced after she left. The good news: It's still in full flower."
—Kurt Loder

"A mix of Terry Southern's Candy Christian and Woody Allen's Zelig, Kennedy's story is an irresistible story of sex, drugs, and rock 'n'roll that helps explains why the '90s were so goddamned great."
—Nick Gillespie, editor-in-chief of reason.com and reason TV

"Remember when MTV played music videos and interviewed rock stars? That was a lot of fun. And no VJ had more fun than Kennedy, who could incite the passions of MTV viewers while merely introducing a Slaughter video. I love this memoir, which chronicles her unlikely rise to fame, the sex-themed prank that ankled her career, and her post-VJ adventures – her book has the same snappy wit she brought to her TV appearances. And it's entirely free of Slaughter videos."
—Rob Tannenbaum, co-author of I Want My MTV
or
Not Currently Available for Direct Purchase