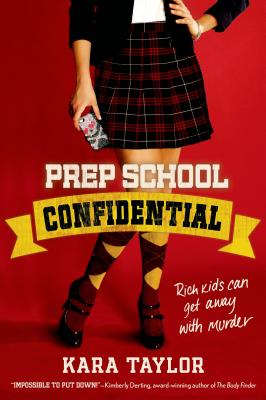 Prep School Confidential (A Prep School Confidential Novel #1) (Paperback)
St. Martin's Griffin, 9781250017598, 336pp.
Publication Date: July 30, 2013
* Individual store prices may vary.
Description
"This book rocks! Scandalously delicious in the same vein as Pretty Little Liars and Revenge, with a wickedly clever plot that kept me guessing right up until the end." -- Gemma Halliday, New York Times bestselling author of Honeymoon in High Heels
Anne Dowling practically runs her exclusive academy on New York's Upper East Side—that is, until she accidentally burns part of it down and gets sent to a prestigious boarding school outside of Boston. Determined to make it back to New York, Anne could care less about making friends at the preppy Wheatley School. That is, until her roommate, Isabella's body is found in the woods behind the school. When everyone else is oddly silent, Anne becomes determined to uncover the truth no matter how many rules she has to break to do it. With the help of Isabella's twin brother Anthony, and a cute classmate named Brent, Anne discovers that Isabella wasn't quite the innocent nerdy girl she pretended to be. But someone will do anything to stop Anne's snooping in this fast-paced, unputdownable read—even if it means framing her for Isabella's murder.
Kara Taylor's breathtaking debut reads like Gossip Girl crossed with Twin Peaks in an enveloping start to the Prep School Confidential series.
"A whirlwind of secrets, lies, and scandals. I whipped through the pages, frantic to discover the killer." –Jill Hathaway, author of Slide
"Fast-paced, suspenseful and scarily believable. It will keep you guessing as you race to the end!" -- Daisy Whitney, author of The Mockingbirds and When You Were Here
About the Author
KARA TAYLOR is twenty-two years old. She completed Prep School Confidential during her first semester of graduate school, in between pulling all nighters and listening to her father say writing isn't a real job. In the past, Taylor has worked as everything from a nanny to an ice cream scooper on Fire Island, New York.
Praise For Prep School Confidential (A Prep School Confidential Novel #1)…
"Anne's honest and whip-smart voice demonstrates her strength of character and intuition as she observes the differences between the elite of New York City and Boston. In this first book in a planned series, first-time author Taylor blends thriller and contemporary fiction elements in a tightly developed plot. Anne's romance with two boys from vastly different social backgrounds offers insight into the heroine's conflicted, yet emerging sense of morality." —Publishers Weekly
"A fast-moving murder mystery with preppy overtones and a determined heroine… Heavy overtones of Nancy Drew combine with a sassy boarding school spin for a fizzy read." —Kirkus
"Still mourning the demise of Gossip Girl? This new series about private school girls behaving badly will fill the void left by your favorite up-to-no-good Upper East Siders… This book has more intrigue than Serena had boyfriends, which says everything." —TeenVogue.com
"Taylor's book shines with a truly puzzling plot, a grisly murder that speaks to her audience's maturity, and a couple of good red herrings. Her sleuth… is charming and wise beyond her years." —RT Book Reviews, 4 stars
"This book rocks! Seriously, do not pass this one up. Prep School Confidential is one of the best books I've read all year. It's scandalously delicious in the same vein as Pretty Little Liars and Revenge, with a wickedly clever plot that kept me guessing right up until the end. If I could give this book a 100 stars, I totally would!" —Gemma Halliday, New York Times bestselling author of Honeymoon in High Heels
"Frenetic and captivating, Kara Taylor's Prep School Confidential is a whirlwind of secrets, lies, and scandals. I whipped through the pages, frantic to discover the killer." —Jill Hathaway, author of Slide
"Fast-paced, suspenseful and scarily believable, Prep School Confidential is everything a good murder mystery should be. I was completely drawn into the world of the Wheatley School where every student and teacher has a secret they'd kill to protect. It will keep you guessing as you race to the end!" —Daisy Whitney, author of The Mockingbirds and When You Were Here
"With a clever and fresh voice, Kara Taylor's Prep School Confidential had me laughing one moment and on pins and needles the next. The amazing blend of humor and suspense will have you turning pages like crazy. I can't wait for the next installment!" —Ingrid Paulson, author of Valkyrie Rising
"With just the right amount of gossip and glamour, Prep School Confidential is a smart, darkly delicious, thrill-ride of a mystery. Impossible to put down!" —Kimberly Derting, Award-Winning Author of The Body Finder
"Prep School Confidential is an awesome read! …One of my favorite parts is Anne herself… There are enough twists and turns in the story that a seasoned mystery fan will be rubbing their head over who actually killed Isabella." —inallseries-ousness.blogspot.com
"Anne becomes a sort of Nancy Drew–you know, if Nancy Drew burned down schools and kisses hot guys who smoke… What a fun, fun book! I could not put this one down. There are so many twists and turns here, so many times I thought I knew whodunnit when in actuality I was waaaay off base (so, what I'm saying is I have no future as a detective). Anne was a strong character who did dangerous, stupid things, but you have to love her for it. I liked her drive to solve Isabella's murder. Considering she barely knew her, I there was such an intensity in her need to find justice. At the same time, I also really enjoyed the fact that there were questionable things about so many of the characters. Things that made you look twice and wonder if they could be trusted. Taylor did a fabulous job layering the story with questions, and tension." —yacrush.wordpress.com