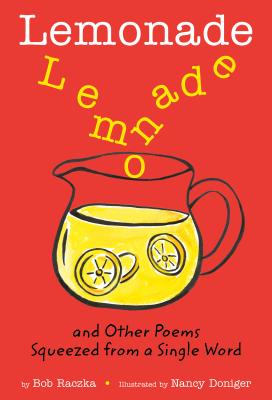 Lemonade
and Other Poems Squeezed from a Single Word
Paperback

* Individual store prices may vary.
Other Editions of This Title:
Hardcover (3/15/2011)
Description
Play with your words! A brand-new poetic form that turns word puzzles into poetry.

Part anagram, part rebus, part riddle—the poems in Lemonade: and Other Poems Squeezed from a Single Word capture a scene from a child's daily life and present a puzzle to solve. Sometimes sweet and sometimes funny but always clever, these poems are fun to read and even more fun for kids to write. Bob Raczka is a fresh, new voice in children's poetry who knows that fun and games can turn a poetry lesson into lemonade!
Praise For Lemonade: and Other Poems Squeezed from a Single Word…
"Doniger's spare illustrations add quirky appeal without distracting from the inventive formations of type. More than just clever gimmicks, the poems leave room for moving lines with a depth that invites imaginative wandering: 'A / silent / lion / tells / an ancient / tale,' reads 'Constellation.' Sure to have wide classroom appeal." —Starred, Booklist

"Readers of all ages will get a kick out of Bob Raczka's clever Lemonade . . . . This book will appeal to both poetry and puzzle lovers, no doubt motivating them to choose their own words and write some poems." —BookPage.com

"A clever, catchy, and challenging collection." —School Library Journal

"The lemonade here is cool and refreshing, and it makes you want to do some squeezing yourself in this playground where poet meets Scrabble nerd." —Horn Book

"Fun as a prompt for poetic exploration." —Kirkus Reviews

"This will be a natural as an inspiration for language arts assignments that appeal both to the wordily creative and the code-loving." —Bulletin of the Center for Children's Books

"Raczka's poems are all produced from the letters in single words, magnifying and playing on their meanings . . . . there's a subtle humor and power at work in many ("friend" reads simply "fred/ finds/ ed"), and readers may be spurred to construct their own." —Publishers Weekly

"Raczka's Lemonade and other poems squeezed from one word will really kick the language arts curriculum up a notch. His poems turn traditional ideas of poetry upside down with word puzzles and word play. Each poem is like a mini-brainstorming session of new words and new ideas. It's a given that students will love creating their own one word poems about topics that they enjoy. Anyone who likes Wheel of Fortune, Hangman, or any sort of word game is going to adore this book." —Sally Walker, Anderson's Bookshop
Square Fish, 9781250018946, 48pp.
Publication Date: March 19, 2013
About the Author
Bob lives with his wife, Amy, in Glen Ellyn, Illinois. They have three children (Robert, Carl and Emma) and a dog (Rufus). They are all Cub fans.

As a boy Bob loved to draw, especially dinosaurs, cars and airplanes. He also spent a lot of time making paper airplanes and model rockets. One time, he even made a flute out of a stick he found and it actually played music.

Bob studied art in college, which came in quite handy while he was writing his series of art appreciation books, Bob Raczka's Art Adventures. He also studied advertising, a creative field he has worked in for 30 years.

A few years ago, Bob discovered how much he enjoyed poetry. It wasn't long before he started writing his own. He has always loved playing with words.
If Bob could share just one message with today's kids, it would be, "Make stuff!" Draw imaginary creatures. Build forts. Write comic books. Make up games. Invent a new baseball pitch. Design your own Halloween costume. Try your own recipe.

Dare to be creative.
Nancy Doniger
has illustrated several books for children and done editorial illustration for the New York Times and other publications. She lives in Brooklyn, New York.