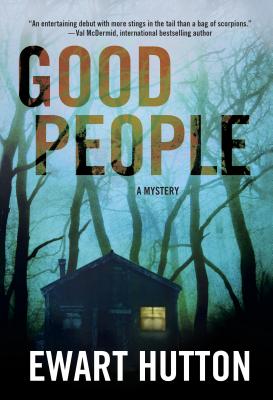 Good People (Hardcover)
Minotaur Books, 9781250019615, 326pp.
Publication Date: April 16, 2013
* Individual store prices may vary.
or
Not Currently Available for Direct Purchase
Description
A Kirkus Reviews Best Fiction Book of 2013
Detective Sergeant Glyn Capaldi, fallen from grace and exiled from Cardiff to the Welsh countryside, does his best to serve as the catchall detective in the big bit in the middle that God gave to the sheep. It's a place where nothing of any significance is meant to happen, a place where his superiors believe he can do little harm.

But trouble has a way of catching up with Capaldi. Six men and a young woman disappear after a night of rugby and drink. They don't all reappear. The ones who do are "good people," and they give a reasonable explanation for the absence of the woman and their friend. Only Capaldi remains unconvinced. In the face of opposition, Capaldi delves deeper and starts to uncover a network of conflicts, betrayals, and depravity that resonates below the outwardly calm surface of rural respectability.

An atmospheric, criminally smart new police procedural that brilliantly evokes Wales, Good People marks the introduction of a compelling detective and the arrival of a shining new talent in crime fiction, Ewart Hutton.
About the Author
Ewart Hutton was born and raised in and around Glasgow before attending university in Manchester and then working in London. He has won numerous awards and prizes for his radio plays, which have been produced for BBC Radio. His stage play won the joint Traverse Theatre and Scottish Television Enterprise's Comedy Play Competition. He lives on the Welsh Marches with his wife. Good People is his first novel.
Praise For Good People…
"The phrase, or variations of it, pops up: She comes from good people; they're good people. But what if they're not? That's the issue in Ewart Hutton's first novel...a gritty and graphic thriller featuring Detective Sgt. Glyn Capaldi, who, after a tragic outcome to a case, has been reassigned from Cardiff to a rural area of Wales where nothing much happens....Hutton, a native of Scotland who now lives in France, paints a rich portrait of a maverick cop, a small community and the depravity that lies beneath its pretty façade. Not for the squeamish, 'Good People' marks a striking and cunning debut."—Jay Strafford, Richmond Times-Dispatch

"Everyone who thinks Ian Rankin doesn't write fast enough should give newcomer Hutton a try....the plot twists are cunning, and Glyn Capaldi is the most appealing antihero this side of John Rebus."—Kirkus Reviews

"Fans of gritty British crime fiction will welcome Hutton's twisty first novel, set in Wales."—Publishers Weekly
"Shortlisted for the 2012 Crime Writers' Association New Blood Dagger for best first novel, this is a stunningly dark debut. The first-person narrative keeps it personal, making the detective's vulnerabilities that much more intense."—Library Journal

"Capaldi's investigation...is a joy to follow. And the wit of the first-person narration is priceless. Definitely a series to watch."—Booklist

"An entertaining debut with more stings in the tail than a bag of scorpions."—Val McDermid, international bestselling author

"Glyn Capaldi makes a hugely impressive first appearance in Good People…teasingly elusive, and convincing, set in dark woodlands and small towns that conceal more than the reader can possibly suspect."—Campbell Armstrong, author of Jigsaw

"Smart, fast-moving and hard-hitting, this is a crime thriller with a witty edge to it."—The Northern Echo
"Hutton's striking debut gives us a convincing version of the detective as outsider, and a cunning mystery that lasts through to the final pages."—Morning Star

"A kick in the pants to the traditional maverick cop novel by a master of English prose. Good People breaks a stereotype in this pacey debut."—The judges of the 2012 CWA John Creasey (New Blood) Dagger
Advertisement