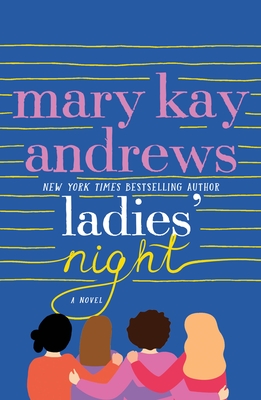 Ladies' Night (Paperback)
St. Martin's Griffin, 9781250019660, 470pp.
Publication Date: April 29, 2014
Description
Take a splash of betrayal, add a few drops of outrage, give a good shake to proper behavior and take a big sip of a cocktail called Ladies' Night
Grace Stanton's life as a rising media star and beloved lifestyle blogger takes a surprising turn when she catches her husband cheating and torpedoes his pricey sports car straight into the family swimming pool. Grace suddenly finds herself locked out of her palatial home, checking account, and even the blog she has worked so hard to develop in her signature style. Moving in with her widowed mother, who owns and lives above a rundown beach bar called The Sandbox, is less than ideal. So is attending court-mandated weekly "divorce recovery" therapy sessions with three other women and one man for whom betrayal seems to be the only commonality. When their "divorce coach" starts to act suspiciously, they decide to start having their own Wednesday "Ladies' Night" sessions at The Sandbox, and the unanticipated bonds that develop lead the members of the group to try and find closure in ways they never imagined. Can Grace figure out a new way home and discover how strong she needs to be to get there?
Heartache, humor, and a little bit of mystery come together in a story about life's unpredictable twists and turns. Mary Kay Andrews' Ladies' Night will have you raising a glass and cheering these characters on.
About the Author
MARY KAY ANDREWS is The New York Times bestselling author of Spring Fever, Summer Rental, The Fixer Upper, Deep Dish, Blue Christmas, Savannah Breeze, Hissy Fit, Little Bitty Lies, and Savannah Blues. A former journalist for The Atlanta Journal Constitution, she lives in Atlanta, Georgia.
Praise For Ladies' Night…
Praise for Ladies' Night:
"Andrews presents a delightful novel…A wonderful blend of action, repartee and offbeat characters in a just-plain-fun story. Humorous and witty, and as entertaining as a good night out."
—Kirkus Reviews
"Her newest novel offers another engaging and satisfying tale of life, loss, and love."
—Booklist
"Mary Kay Andrews' novels have become a summer staple like a new pair of sandals. The New York Times' best-selling author returns with the perfectly mixed cocktail of romance, mystery and comedy…"
—Raleigh News & Observer
"This is her best book yet, and it combines all of the strengths we have come to expect from this audacious and beguiling author."
—Huffington Post


"A court-ordered therapy session is the site of the action in Andrews's zesty, amusing latest…"
—People
"Mary Kay Andrews blends heartache and hilarity in a story line filled with surprises."
—Southern Living
"If there were a literary genre dedicated to great beach books, the novels of Mary Kay Andrews would set its standard for excellence."
—Cape Gazette


Praise for
Spring Fever
:"Andrews deftly combines a winsome love story and compelling family drama, and the idyllic small-town setting and surprising twists and turns are tailor-made for laid-back summer pleasure reading."
—Booklist
"Andrews delivers a satisfying read that will leave a taste as tangy, delicious and sweet as an ice-cold bottle of Quixie soda."
—Kirkus Reviews
"Beach read favorite Mary Kay Andrews delivers her delicious, new escapist novel about small towns, old flames and deep secrets."
—Deep South Magazine
"The words fly off the pages at the speed of sound and lodge in your heart while tickling your funny bone. Mark
Spring Fever
down as a must read this summer."
—Huffington Post
"A very Suth'n novel by this popular Georgia-based author… This novel is full of intriguing plot turns by colorful characters with equally colorful names…"
—Seattle Times
"First-rate designer of romantic baubles Mary Kay Andrews sets this summer's offering in Passcoe, N.C. The book is a sparkler with just deserts and comeuppances dished up all around."
—Washington Post
"Mary Kay Andrews continues her streak with this charming story and its perfect mix of humor, romance, and quirky loveable characters."
—The Times News
Praise for
Summer Rental
:"Mary Kay Andrews spins a beach blanket sizzler around three lifelong friends...This warm weather treat has a lot going for it, not least the sunny forecast that summer love can blossom into a four-season commitment." 
—Publishers Weekly
on
Summer Rental
"Andrews writes another charmer with a picturesque southern setting and winsome female characters."
—Booklist
"Andrews simply excels at creating the kind of characters readers can relate to, and she has a fabulous sense of humor to boot. For all women's fiction fans, especially those who enjoy ensemble fiction."
—Library Journal
"…Readers of
Summer Rental
will stay glued to their sandy beach chairs waiting to see what happens next."
—
Christian Science Monitor
"Worth a visit."
—People Magazine
"
Summer Rental
is like a great day at the beach. You don't want it to end. No need to pack a suitcase or get on a plane. Enjoy a vacation any time of year with the ever-delightful Mary Kay Andrews." —Susan Elizabeth Phillips
Advertisement