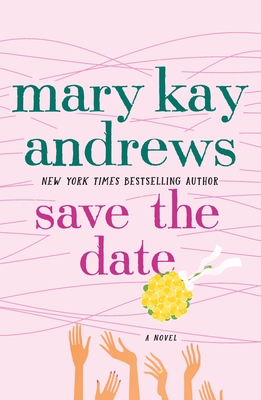 Save the Date
A Novel
Paperback

* Individual store prices may vary.
Other Editions of This Title:
Digital Audiobook (6/2/2014)
CD-Audio (6/3/2014)
Description
Can this wedding be saved?

Up-and-coming floral designer Cara Kryzik is about to score the wedding of a lifetime—one that will solidify her career as the go-to-girl for Savannah society nuptials. The only problem is, life seems to be conspiring against her. Cara's implacable father, "The Colonel", doesn't believe in Cara's business savvy and is about to call in his twenty-thousand-dollar loan. Then, on the morning that someone steals her dog, Cara's refrigerator goes on the blink, turning twelve thousand dollars' worth of gorgeous blooms into road kill. And if that's not enough, the dog-napper, Jack Finnerty, turns up at her latest wedding and then mysteriously leaves her stranded on the dance floor.

All this turmoil will be solved if Cara can pull off the lavish Trappnell-Strayhorn wedding. The payday will solve all her problems—even the looming problem of a celebrated florist named Cullen Keane who is moving into her turf from Charleston. But the wedding is in six weeks, the bride is acting strangely (even for a bride) and the stepmother of the bride is becoming Cara's biggest headache. What Cara needs is to focus, but that's not easy when Jack is turning up at every wedding in Savannah (the man seems to know everybody), with Cara in his sights and seduction on his mind.

When Brooke Trappnell spirals into a shocking crisis and the wedding is in jeopardy, Cara must come to the rescue and figure out what she really believes in. Is it love? Is it her own strength? In the end, for everyone, "Save the Date" has more meanings than one. Told with Mary Kay Andrews's trademark wit and keen eye for detail, Save the Date is one you won't want to miss.
Praise For Save the Date: A Novel…
"Delicious…Laugh-out loud humor, overwrought bridezillas and a runaway puppy…an absolute delight!" —AARP

"Andrews's latest and possibly greatest book yet." —Bookreporter

"Funny, witty, tender, and compelling." —RT Book Review

"Storytelling at its best." —Delta Magazine

"Charming." —Booklist

"Andrews's latest will have readers entranced, waiting to see if Cara will triumph over her many obstacles before the last petal drops. Save the Date definitely deserves a spot on your calendar." —Shelf Awareness

"Save the Date is a vintage Andrews rom com, a colorful bouquet of a book that's filled with her trademark wry wit, good humor." —examiner.com

"Andrews is a writer who knows just the right amount of humor, romance, sex and charm to introduce as ingredients in her story… She always delivers a bright summer read that is impossible to resist. She has certainly done that once more with Save the Date." —Huffington Post

"This solid beach read gives hope that love is out there." —USA Today

"A deft mixture of romance and humor in a story featuring a likable protagonist and cute critters: It's a date Andrews fans won't want to miss." —Kirkus Reviews

"Andrews presents a delightful novel…A wonderful blend of action, repartee and offbeat characters in a just-plain-fun story. Humorous and witty, and as entertaining as a good night out." —Kirkus Reviews on Ladies' Night

"Her newest novel offers another engaging and satisfying tale of life, loss, and love. " —Booklist on Ladies' Night

"Mary Kay Andrews' novels have become a summer staple like a new pair of sandals. The New York Times' best-selling author returns with the perfectly mixed cocktail of romance, mystery and comedy…" —Raleigh News & Observer on Ladies' Night

"This is her best book yet, and it combines all of the strengths we have come to expect from this audacious and beguiling author." —Huffington Post on Ladies' Night

"A court-ordered therapy session is the site of the action in Andrews's zesty, amusing latest…" —People on Ladies' Night

"Mary Kay Andrews blends heartache and hilarity in a story line filled with surprises." —Southern Living on Ladies' Night

"If there were a literary genre dedicated to great beach books, the novels of Mary Kay Andrews would set its standard for excellence. " —Cape Gazette on Ladies' Night

"Andrews deftly combines a winsome love story and compelling family drama, and the idyllic small-town setting and surprising twists and turns are tailor-made for laid-back summer pleasure reading." —Booklist on Spring Fever

"Andrews delivers a satisfying read that will leave a taste as tangy, delicious and sweet as an ice-cold bottle of Quixie soda." —Kirkus Reviews on Spring Fever

"Beach read favorite Mary Kay Andrews delivers her delicious, new escapist novel about small towns, old flames and deep secrets." —Deep South Magazine on Spring Fever

"The words fly off the pages at the speed of sound and lodge in your heart while tickling your funny bone. Mark Spring Fever down as a must read this summer." —Huffington Post on Spring Fever

"A very Suth'n novel by this popular Georgia-based author… This novel is full of intriguing plot turns by colorful characters with equally colorful names…" —Seattle Times on Spring Fever

"First-rate designer of romantic baubles Mary Kay Andrews sets this summer's offering in Passcoe, N.C. The book is a sparkler with just deserts and comeuppances dished up all around." —Washington Post on Spring Fever

"Mary Kay Andrews continues her streak with this charming story and its perfect mix of humor, romance, and quirky loveable characters." —The Times News on Spring Fever

"Mary Kay Andrews spins a beach blanket sizzler around three lifelong friends...This warm weather treat has a lot going for it, not least the sunny forecast that summer love can blossom into a four-season commitment." —Publishers Weekly on Summer Rental

"Andrews writes another charmer with a picturesque southern setting and winsome female characters. " —Booklist on Summer Rental

"Andrews simply excels at creating the kind of characters readers can relate to, and she has a fabulous sense of humor to boot. For all women's fiction fans, especially those who enjoy ensemble fiction." —Library Journal on Summer Rental

"...Readers of Summer Rental will stay glued to their sandy beach chairs waiting to see what happens next." —Christian Science Monitor on Summer Rental

"Worth a visit." —People Magazine on Summer Rental

"Summer Rental is like a great day at the beach. You don't want it to end. No need to pack a suitcase or get on a plane. Enjoy a vacation any time of year with the ever-delightful Mary Kay Andrews." —Susan Elizabeth Phillips on Summer Rental
St. Martin's Griffin, 9781250019707, 464pp.
Publication Date: May 5, 2015
About the Author
Mary Kay Andrews is The New York Times bestselling author of The Beach House Cookbook and more than twenty novels, including The Weekenders, Ladies' Night, Spring Fever, Summer Rental, The Fixer Upper, Deep Dish, Blue Christmas, Savannah Breeze, Hissy Fit, Little Bitty Lies, and Savannah Blues. A former journalist for The Atlanta Journal Constitution, she lives in Atlanta, Georgia.