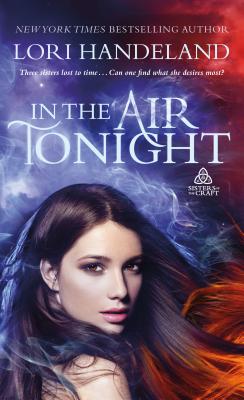 In the Air Tonight (Mass Market Paperbound)
Sisters of the Craft
St. Martin's Press, 9781250020123, 352pp.
Publication Date: June 2, 2015
* Individual store prices may vary.
or
Not Currently Available for Direct Purchase
Description
Four centuries ago, in a small Scottish village, three baby girls escaped the wrath of a witch hunter. Today, one young woman will learn about her secret history, her heart's destiny, and the sisters she never knew she had...
With her blue-black hair and dark eyes, Raye Larsen has never fit in with the Scandinavian community of New Bergin, Wisconsin. Being adopted is part of the reason she feels like an outsider, but what really sets Raye apart is her ability to see dead people. Everywhere. She's learned to keep her visions to herself...until she stumbles onto the ghost of a murder victim who needs Raye's help. Enter Bobby Doucet, a distractingly handsome homicide detective who has been tracking a killer all the way from New Orleans. Could this be the break in his case he's been looking for all along? Meanwhile, the deeper Raye gets involved with the case-and with Bobby-the closer she comes to unlocking the mystery of her own origins. What she discovers about herself could destroy everything she knows...and everyone she loves. Is finding the truth worth the risk?
Filled with dark magic, dazzling romance, and dire suspense, In the Air Tonight is the first book in a thrilling new series by New York Times bestselling author Lori Handeland.
About the Author
Lori Handeland is a two time RITA Award winner and the New York Times bestselling author of the Nightcreature Novels, a paranormal romance series; The Phoenix Chronicles, an urban fantasy series; and the Shakespeare Undead historical fantasy series. She also writes Western historical romance under the name Lori Austin. Lori lives in Wisconsin with her husband, and enjoys occasional visits from her grown sons.
Advertisement