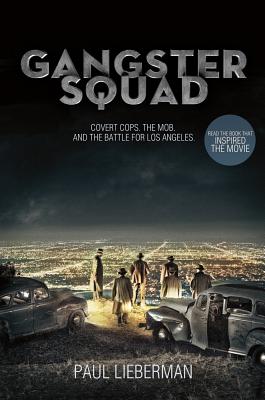 Gangster Squad (Hardcover)
Covert Cops, the Mob, and the Battle for Los Angeles
Thomas Dunne Books, 9781250020154, 549pp.
Publication Date: August 7, 2012
Other Editions of This Title:
Digital Audiobook (8/6/2012)
Paperback (8/7/2012)
CD-Audio (8/7/2012)
Mass Market (7/31/2012)
Paperback, Spanish (1/1/2010)
Hardcover, Large Print (1/9/2013)
* Individual store prices may vary.
Description
A harrowing, edge-of-your-seat narrative of murder and secrets, revenge and heroism in the City of Angels, GANGSTER SQUAD chronicles the true story of the secretive police unit that waged an anything-goes war to drive Mickey Cohen and other hoodlums from Los Angeles after WWII the real events behind the highly-anticipated Warner Bros. film starring Sean Penn, Josh Brolin, Ryan Gosling and Emma Stone.
A full decade before J. Edgar Hoover's FBI even acknowledged the existence of the Mafia, the Los Angeles Police Department launched the real-life Gangster Squad with eight men who met covertly on street corners and slept with Tommy guns under their beds while combating what city fathers saw as an "invasion of undesirables." The squad planted bugs in mobsters' bedrooms and took visiting hitmen into the Hollywood Hills for a chat and a pistol in their ear. But for two cops, all that mattered was nailing Mickey Cohen, the strutting little gangster who for 15 years made a mockery of law and order in Los Angeles. Sgt. Jack O'Mara was a square-jawed church usher, Sgt. Jerry Wooters a cynical womanizer. About all they had in common was their obsession with the pint-sized Brooklyn-born prizefighter who rose to the top of the L.A. rackets following the murder of his mentor Bugsy Siegel then flaunted his stature by holding court every night along the Sunset Strip. So O'Mara set a trap for Mickey using his own guns -- to prove he was a killer. And Wooters formed an alliance with Mickey's budding rival, Jack "The Enforcer" Whalen, an intimidating figure with movie star looks and dreams of making it in Hollywood. Two cops -- two hoodlums. Their fates collided in the closing days of the 1950s, when "The Enforcer" stormed into Rondelli's restaurant to have it out with Mickey and his crew. Then a bullet between the eyes signaled that the Gangster Squad's time was up and so was a formative era in the city's history.
Award-winning journalist Paul Lieberman's seven-part 2008 Los Angeles Times' series "Tales from the Gangster Squad" was optioned by Warner Bros. and became the basis for the feature film scheduled for release in the fall of 2012. One of the most highly anticipated movies of the year, it features Josh Brolin as Sgt. O'Mara, Ryan Gosling as Sgt. Wooters, Nick Nolte as Police Chief William Parker, Sean Penn as Mickey Cohen and Emma Stone as the love interest caught between the city's foremost mobster and the dashing Sgt. Wooters. An Executive Producer of the film, Lieberman spent well over a decade tracking down surviving members of the real police unit and conducted more than 300 interviews in all to write the book version of "Gangster Squad." He met countless times with the hitherto anonymous foot soldiers in L.A.'s war against organized crime but also with the families and associates of the mobsters they pursued and assembled thousands of pages of documents, including grand jury transcripts, voluminous crime reports, old family letters and photos, and the LAPD's own survey of every mob killing in the city from 1900 to 1951. The result is an in-depth look at the real characters and chilling events that inspired the movie in a tour-de-force narrative that will remind readers of LA Confidential.
About the Author
PAUL LIEBERMAN is a journalist with more than a quarter century of experience as a writer and editor at the Los Angeles Times and Atlanta Journal-Constitution. He has won dozens of journalism honors, most for investigative projects, including the Robert F. Kennedy Awards Grand Prize, a George Polk Award, Gerald Loeb Award, American Society of Newspaper Editors Award and Scripps Howard Foundation Award. He also shared in two team Pulitzer Prizes at the L.A. Times, as a writer on its coverage of the Los Angeles Riots and an editor of its reporting on the Northridge Earthquake. A native New Yorker, Lieberman is a Phi Beta Kappa graduate of Williams College and was a Nieman Fellow at Harvard, where he studied law and social history. He lives in Westchester County with his wife, a school administrator.
Praise For Gangster Squad: Covert Cops, the Mob, and the Battle for Los Angeles…
"I'm all in on this book. Got a little Mission Impossible in there. Got a little Dirty Dozen in there. Got a little Bud White from L.A. Confidential in there. All set on the mean Noir streets of L.A. I dig the circa. I did the milieu. And I dig the cast of characters." -- Dennis Miller
or
Not Currently Available for Direct Purchase