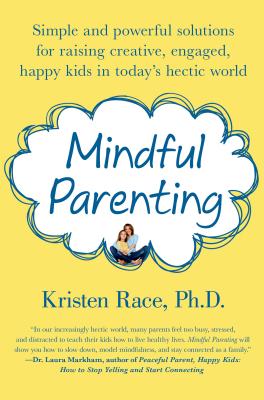 Mindful Parenting
Simple and Powerful Solutions for Raising Creative, Engaged, Happy Kids in Today's Hectic World
Paperback

* Individual store prices may vary.
Description
A mindful approach to parenting that helps children (and their parents) feel happier, healthier, calmer, and less stressed in our frenetic era
Rooted in the science of the brain, and integrating cognitive neuroscience and child development, Mindful Parenting is a unique program that speaks directly to today's busy families who make up what Dr. Race calls "Generation Stress." Research has shown that mindfulness practices stimulate the prefrontal cortex of the brain. Regular stimulation of this part of the brain helps us feel happier, healthier, calmer, less anxious, less stressed, and makes it easier for us to concentrate and think clearly—the very behavior we are hoping our children will display.
Dr. Race provides:
An explanation of the way the brain works and why parents and kids today are more stressed, anxious, and angry than ever before
Practical solutions to the problem: Things parents can do to change brain patterns and create a more relaxed and happier home
"Brain Coolers": Quick tips that can be used in the moment to help families relax, recharge, and create happiness (such as "The Three Breath Hug")

Mindful Parenting understands the realities of raising a family in our fast paced and often-frenetic world and provides hundreds of easy-to-implement solutions, both for parents and their children, to help them manage stress, create peace, and live happier lives.
"This book is a must-read for all parents of our generation." --Sara Blakely, founder of Spanx
Praise For Mindful Parenting: Simple and Powerful Solutions for Raising Creative, Engaged, Happy Kids in Today's Hectic World…
"In our increasingly hectic world, many parents feel too busy, stressed and distracted to teach their kids how to live healthy lives. In Mindful Parenting, Kristen Race will show you how to slow down, model mindfulness, and stay connected as a family. Rooted in science and filled with practical takeaways, this is a welcome and needed book for all parents." —Dr. Laura Markham, author of Peaceful Parent, Happy Kids: How To Stop Yelling and Start Connecting
"Is your family running from one activity to the next? Do you spend more time balancing conflicting schedules than bonding as a family? Mindful Parenting will help you and your family lead calmer, happier, and healthier lives. Rooted in science, Dr. Kristen Race offers lots of clever, fun techniques you can implement right away. The takeaways will help you and your children find the balance and calm you all need and deserve. This book is a must-read for all parents of our generation." —Sara Blakely, founder of Spanx
"A thoughtful, science-based plan that helps today's parents and their kids use mindfulness techniques . . . Busy parents will benefit from Race's balanced approach and bounty of family-friendly ways to decompress." —Publishers Weekly
St. Martin's Griffin, 9781250020314, 272pp.
Publication Date: January 7, 2014
About the Author
KRISTEN RACE, Ph.D. is an expert in child, family and school psychology and the founder of Mindful Life. Dr. Race speaks regularly at national conferences and for many community groups. Her print articles have appeared in Kiwi magazine, Denver Life, and Colorado Business Magazine among others, and she has appeared on the CBS Morning Show and Everyday Colorado as a parenting expert. She currently resides in Steamboat Springs, Colorado with her family.
or
Not Currently Available for Direct Purchase