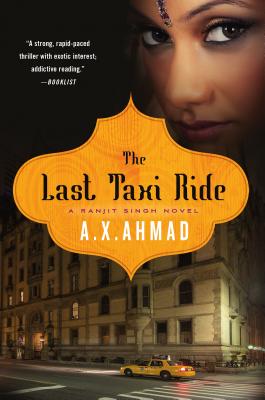 The Last Taxi Ride
A Ranjit Singh Novel
Paperback

* Individual store prices may vary.
Other Editions of This Title:
Hardcover (6/24/2014)
Description
An NPR Best Book of 2015!

New York City taxi driver Ranjit Singh, hero of A.X. Ahmad's heralded debut The Caretaker, has 10 days to prove his innocence...

Bollywood film icon Shabana Shah has been murdered, her body found in the apartment where Ranjit ate dinner mere hours before. Ranjit's fingerprints are all over the murder weapon, a statue of the elephant god Ganesh used to grotesquely smash the actress' beautiful face. Caught on film leaving the apartment alone, Ranjit is accused by the NYPD as an accessory to murder.

Ranjit's only credible alibi is Shabana's Indian doorman, but he has vanished. With a Grand Jury arraignment looming in 10 days, and Ranjit's teenage daughter about to arrive from India, he must find the doorman. His search through the underbelly of New York leads to the world of high-end nightclub owners, back-alley Mumbai gangsters and to Jay Patel, a shady businessman who imports human hair. As his investigation for the true killer reveals layers of Shabana Shah's hidden past, Ranjit does not know whom to trust. He can rely only on his army training, his taxi-driver knowledge of New York, and his cabbie friends. With time quickly running out, can Ranjit clear his name before his fare is up? The Last Taxi Ride is the second novel in the Ranjit Singh trilogy.
Praise For The Last Taxi Ride: A Ranjit Singh Novel…
"Great pacing and unforgettable details make this a procedural not to be missed." —NPR, Best Books of 2015

"Ranjit Singh is one of the most entertaining and fully realized amateur detectives to appear in years…." —Bethanne Patrick, The Washingtonian

"This sequel to The Caretaker (2013) is another solid success for Ahmad, who conjures up a fascinating cast of characters from mobsters to cab drivers, illuminating South Asian expat culture and exploring the Indian Mafia's long reach… A strong, rapid-paced thriller with exotic interest; addictive reading." —Booklist

"Ahmad does a wonderful job of conveying the vibrant underworld that has become Singh's new life. As the action unfolds in the old garages and cheap ethnic restaurants where the cabbies congregate and where jailhouse lawyers hold meetings in back rooms, he builds a vision of a city that is more "Slumdog Millionaire" (or "Dirty Pretty Things") than "Manhattan"…. [An] intriguing glimpse inside the South Asian immigrant experience, rich in flavors and expressions that can conjure a memory or throw a character back in time." —The Boston Globe

"This is stand-out genre writing; Ahmad packs a lot of sexy and intriguing muscle onto the skeleton of the detective formula. Singh is a compelling, attractive hero, and his journeys offer us a cross-section view of worlds too often invisible to those not living in them. The Last Taxi Ride is a pressure-cooked stew..." —Jules Bentley, The Brooklyn Paper

"A.X. Ahmad takes us inside the immigrant experience, and for purposes of plot, it never hurts to have an "invisible man" with serious close-combat skills. It's interesting to see the U.S. from the perspective of a dark-skinned man in a turban." —Charlotte Observer

"Ahmad twists this crime novel scenario into a clever take on the corruption of India's film industry and the migration of its crime mobsters to New York....The Last Taxi Ride is an immigrant's-eye view of New York City's streets and American xenophobia masquerading as a whodunit. The tenacious Ranjit traverses its avenues and alleys like Lawrence Block's Matt Scudder in a turban. Ahmad ably brings to life a side of the city rarely seen by those who take for granted their nannies, doormen and cabbies." —Shelf Awareness

"Ranjit, ever the gallant Sikh, makes a winning hero in a mystery revealing of how Indians do business-legitimate or otherwise--in New York and around the world." —Publisher's Weekly

"Ahmad breathes life into the characters of Ranjit and New York City...utterly authentic and original." —NPR.org

"Ahmad intertwines a double narrative set some 20 years apart, seamlessly moving between the mafia-controlled glamour of Mumbai's film industry to the invisible-in-clear-view immigrant service world of multi-culti New York City. From oversized city rats to the designer-clad two-legged variety, from Dubai mansions to hidden Chinatown backrooms, from human hair to Prada couture, Ahmad deftly lures us into another heart-thumping, multi-twisted, law-defying adventure for his good Captain Singh." —The Smithsonian Book Dragon

"The Last Taxi Ride is an international ride of intrigue, murder, and struggle. Ahmad's characters…all behave in a nuanced, human fashion. The author weaves in Singh and Shah's individual struggles beautifully, and then ties all of those issues into the larger narrative. And it all plays out on a world stage." —Criminal Element

"As I read The Last Taxi Ride, I often found myself smiling, cringing or both and that was, for me, the mark of a solid read and Ahmad's promise as an author. He infuses the thriller with delightful notes like a Greek chorus of taxi drivers, running jokes that only get better as the plot progresses, and lyrical passages that deepen, rather than slow, the overall narrative." —Desi Writers Lounge

"I picked this novel up and devoured the entire thing in one sitting…. Ahmad's really honed his writing skills with this novel, delivering a breathless thriller while still maintaining intriguing character development and his gorgeous, descriptive writing. I'll be on the edge of my seat waiting for the final chapter in this trilogy." —S. Krishna's Books

"… Ranjit Singh is a Sikh and a former officer of the Indian army, a man who ranges the streets of Manhattan in a taxi cab and yet maintains the sensibilities of a vastly alien culture; a man who aims his laser-like vision at those same mean streets, forever changing our view of their chaos and pain. A stunningly fine novel. Noir as seen through a shimmering jewel, held up as an offering to Shiva." —Martin Limon, author of Nightmare Range

"I couldn't stop reading this beautiful, realistic and riveting second novel featuring Ranjit Singh. The novel takes the reader deep into New York's largely unseen immigrant world as well as the cutthroat backstage of the Bollywood film industry. The Last Taxi is one hell of a ride…" —Sujata Massey, author of The Sleeping Dictionary and the Rei Shimura series

"[Takes] us on a harrowing ride through the desperate streets of Hindi Jackson Heights and Little Guyana to the glittering Bollywood backlots and the underworld of the Mumbai mafia. Full of action and surprises, The Last Taxi Ride is a dark slice of New York's South Asian demimonde, and author A.X. Ahmad knows the turf well. You can almost taste the roti and the kaali-daal, and readers will surely be hailing the next ride." —Henry Chang, author of Death Money and the Chinatown trilogy
Minotaur Books, 9781250020444, 368pp.
Publication Date: June 16, 2015
About the Author
A. X. AHMAD was raised in India, educated at Vassar College and MIT, and worked for many years as an international architect. His short stories and essays have been published in literary magazines. He splits his time between Washington, D.C., and Brooklyn, New York. He is the author of The Caretaker and The Last Taxi Ride.