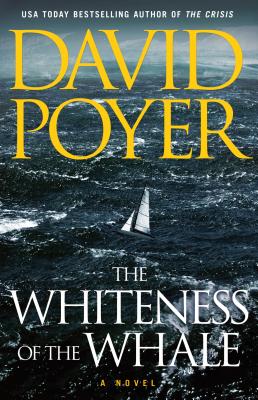 The Whiteness of the Whale (Hardcover)
St. Martin's Press, 9781250020567, 324pp.
Publication Date: April 2, 2013
* Individual store prices may vary.
or
Not Currently Available for Direct Purchase
Description
"An antiwhaling expedition to the freezing Antarctic takes a violent turn in this powerful novel from bestselling author and sailor David Poyer."
""
""After a tragic accident maims her laboratory assistant, Dr. Sara Pollard's career as a primate behaviorist lies in ruins. With nothing left to lose, Pollard descendant of a Nantucket captain whose ship was sunk by a rogue whale accepts an offer to join anti-whaling activists on a round-the-world racing yacht as the resident scientist. The plan is to sail from Argentina to the stormy Antarctic Sea. There they'll shadow, harass, and expose the Japanese fleet, which continues to kill and process endangered whales in internationally-declared sanctuaries.
But everyone aboard "Black Anemone" has a secret, or something to live down. Her crew including a beautiful but narcissistic film celebrity, an Afghan War veteran in search of the buzz of combat, and an enigmatic, obsessive captain will confront hostile whalers, brutal weather, dangerous ice, near-mutiny, and romantic conflict. But no one aboard is prepared for what Nature herself has in store . . . when they're targeted by a massive creature with a murderous agenda of its own.
Filled with violence, beauty, and magical evocations of life in the most remote waters on Earth, "The Whiteness of the Whale" is a powerful adventure by a master novelist.
About the Author
DAVID POYER's naval career included service in the Atlantic, Mediterranean, Arctic, Caribbean, and Pacific. His thirty-plus books, including twenty sea novels, have been translated into Italian, Dutch, Japanese, and other languages. He's also written sailing, diving, and nautical history articles for "Chesapeake Bay, Southern Boating, Shipmate, Tidewater Virginian," and other periodicals. His work has been required reading in the Literature of the Sea course at the U.S. Naval Academy, along with that of Joseph Conrad and Herman Melville. He lives on the Eastern Shore of Virginia with his wife and daughter, with whom he explores the Chesapeake Bay and Atlantic coast in their sloop, "Water Spirit."
Praise For The Whiteness of the Whale…
"Poyer's novel is an edge-of-your-seat drama that doesn't disappoint. The author paints his eco-thriller with lyrical and metaphorical prose, creating a beautiful portrait of life at high seas. The result is a fast-paced voyage with fully-realized characters, and a plot that offers twists and turns within each pulsing chapter. The author's fine attention to detail draws in the reader to vicariously feel 'the freezing mist' of the Antarctic....Icebergs in the blackness of night, combined with the threat of the hostile whaling fleet and life-or-death scenarios aboard the Black Anemone, make for a thrilling backdrop to Poyer's latest epic adventure." —The Detroit Examiner

"A riveting modern-day tale of high-seas Antarctic adventure...Poyer's intense, fast-paced prose creates palpable suspense." —Publishers Weekly "Poyer's thriller takes fans on a frightening ride that will have them reaching for their Dramamine." —Kirkus Reviews "The story is undeniably powerful." —Booklist "Best read in one sitting." —Christianity Today
Advertisement