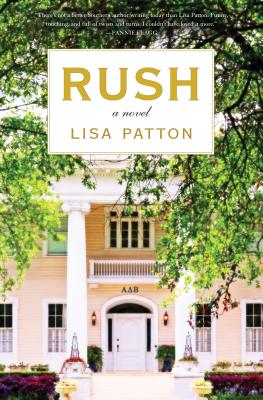 Rush
A Novel
Hardcover

* Individual store prices may vary.
Other Editions of This Title:
Paperback (8/6/2019)
Compact Disc (8/21/2018)
Compact Disc (8/21/2018)
MP3 CD (8/21/2018)
Library Binding, Large Print (11/7/2018)
Description
"There's not a better Southern author writing today than Lisa Patton. Funny, touching, and full of twists and turns. I couldn't have loved it more." – Fannie Flagg, New York Times bestselling author of Fried Green Tomatoes at the Whistle Stop Café
Rush is recommended by...
Atlanta Journal Constitution as a Southern Beach Book
SouthernLiving.com as a 2018 Beach Read
Deep South Magazine's Summer Reading List
Southern Independent Bookseller's Alliance as a SUMMER 2018 OKRA PICK
Modern Mrs. Darcy Fall Lineup

Set in modern day Oxford, Mississippi, on the Ole Miss campus, bestselling author Lisa Patton's RUSH is a story about women—from both ends of the social ladder—discovering their voices and their empowerment.
Cali Watkins possesses all the qualities sororities are looking for in a potential new member. She's kind and intelligent, makes friends easily, even plans to someday run for governor. But her resume lacks a vital ingredient. Pedigree. Without family money Cali's chances of sorority membership are already thin, but she has an even bigger problem. If anyone discovers the dark family secrets she's hiding, she'll be dropped from Rush in an instant.
When Lilith Whitmore, the well-heeled House Corp President of Alpha Delta Beta, one of the premiere sororities on campus, appoints recent empty-nester Wilda to the Rush Advisory Board, Wilda can hardly believe her luck. What's more, Lilith suggests their daughters, both incoming freshman, room together. What Wilda doesn't know is that it's all part of Lilith's plan to ensure her own daughter receives an Alpha Delt bid—no matter what.
For twenty-five years, Miss Pearl—as her "babies" like to call her—has been housekeeper and a second mother to the Alpha Delt girls, even though it reminds her of a painful part of her past she'll never forget. When an opportunity for promotion arises, it seems a natural fit. But Lilith Whitmore slams her Prada heel down fast, crushing Miss Pearl's hopes of a better future. When Wilda and the girls find out, they devise a plan destined to change Alpha Delta Beta—and maybe the entire Greek system—forever.
Achingly poignant, yet laugh-out-loud funny, RUSH takes a sharp nuanced look at a centuries-old tradition while exploring the complex, intimate relationships between mothers and daughters and female friends. Brimming with heart and hope for a better tomorrow, RUSH is an uplifting novel universal to us all.
Praise For Rush: A Novel…
Praise for RUSH:
"A humorous, yet heartfelt novel about hard work, patience and helping others." -- Clarion Ledger
"Rush's message of redemption is a powerful one, and its story of longed-for justice and grace under fire is just the sort of story you would expect from the pen of someone like Lisa Patton. And it's just the story we need right now." - Southern Exposure
"Patton gives readers a ringside seat to the sorority drama at the University of Mississippi ("Ole Miss" in Oxford) - but the story is deeper than getting the inside scoop on sorority rush...Told with humor and heart, this is a story of right versus wrong, old traditions pitted against modern ideas and changing times." - Atlanta Journal-Constitution
"With a rich story line full of heart, [RUSH] expertly tackles current social issues." -- Library Journal
"This is a novel of great substance, clear-eyed and genteelly gritty, with a moral that's difficult to miss or dismiss. Rush is a dishy doorstop with a big, big heart and a whole lot to say." -- Commercial Appeal Memphis and Chapter 16
"A definite winner." -- Wonderlust Travel
"Lisa Patton's characteristic wit and sass along with richly drawn and authentically Southern characters are brilliantly showcased in RUSH. Patton places a magnifying glass over the glorified institution of sorority rush in the South, giving the reader an enlightening and lively look at all the goings-on, highlighting the good and the not-so-good aspects of Greek life. Part social commentary on race and economic differences, and part heartwarming and hear-tugging family drama, RUSH is ultimately a story about finding one's personal source of strength to fight the status quo, and about finding forgiveness in the most unexpected places. A fun and invigorating read--I highly recommend!" -- Karen White, New York Times bestselling author of Dreams of Falling
"In RUSH, Lisa Patton digs deep into the secret world of sorority rush where sisterhood is held sacred. But beneath these bonds a groundswell is emerging threatening to break apart the sisterhood and dismantle the sorority unless a long standing tradition can be broken. This engaging and poignant novel will have you wanting to jump right in along with the characters to fight for what is right." - Laura Lane McNeal, bestselling author of Dollbaby
"You are in for a treat as astute, hilarious, and true grit author Lisa Patton takes you on a hayride through sorority life in the American south. Written with humor, reverence and enough treachery to make it real, RUSH is a magnificent story about mothers and daughters, legacy and tradition and the abiding strength of the sisterhood. Grab the punch bowl and the mixed nuts as this animal house goes animal crackers. You will love it!" - Adriana Trigiani, New York Times bestselling author of Kiss Carlo
"RUSH is a beautifully written coming-of-age novel, set against the backdrop of sorority rush in the south. Lisa Patton weaves an unforgettable story of friendship and the bonds between mothers and daughters, while also exploring larger themes of class, race, and inequality. An extraordinary and important novel – I absolutely loved it!" – Jillian Cantor, author of Margo and The Lost Letter
"There's not a better Southern author writing today than Lisa Patton. Her delightful new book is a modern look at what is perhaps the most sacred of all Southern rituals: sorority rush at The University of Mississippi, 'Ole Miss.' And happily for us, Miss Patton captures to absolute perfection the hilarity, hysteria, and heartbreak of it all. Funny, touching, and full of twists and turns. I couldn't have loved it more." – Fannie Flagg, New York Times bestselling author of Daisy Fay and the Miracle Man, Fried Green Tomatoes at the Whistle Stop Café, and The Whole Town's Talking
"RUSH transports us smack dab into the middle of the secret world of sorority rush. We find ourselves behind the scenes with a provocative peek into the world of sorority sisters and the beloved House staff who work tirelessly on their behalf. Lisa Patton has penned a powerful and relevant story infused with raw emotion and the beating heart of her sassy humor. I adored this unforgettable novel that will both surprise you and capture your heart." - Patti Callahan Henry, New York Times bestselling author of The Bookshop at Water's End and The Idea of Love
"What a beautiful, haunting novel. In addition to being an engaging, lush portrait of the phenomenon known as rush, and the importance of friendships that bond women for life, RUSH tackles some social injustices lingering in the South. Lisa Patton's work personifies "be the change." You have to read this book, and share it with everyone you know." - J.T. Ellison, New York Times bestselling author of Lie to Me and Dead Ends

"Equal parts compelling and heartfelt, this novel bravely addresses the beloved traditions and surprising perspectives of a southern institution. In RUSH, Lisa Patton does what every great storyteller should--raises thought-provoking questions while thoroughly entertaining her readers." - Marybeth Whalen, author of When We Were Worthy, The Things We Wish Were True and co-founder of the popular women's fiction site, She Reads

"Rush is a great read, a gentle-hearted literary novel of the New South telling an eye-opening, entertaining story with a conscious. The book is impeccably well-written and deserves the accolades that are coming its way. Patton, herself a Deep South native, a University of Alabama graduate, and a former sorority member, writes the story with a careful eye for telling details, an honest ear for dialect and dialogue, an artistic talent for descriptive passages, and a voice ringing with authenticity. More than that—she tells the story with insight and compassion." -- Compulsive Reader
St. Martin's Press, 9781250020666, 416pp.
Publication Date: August 21, 2018
About the Author
LISA PATTON spent over twenty years in the music industry before discovering her passion for novel writing. A breast cancer survivor, Lisa is now the bestselling author of WHISTLIN' DIXIE IN A NOR'EASTER and YANKEE DOODLE DIXIE. Both novels have been featured on the Southern Independent Booksellers Alliance (SIBA) Bestseller List and in 2010 Lisa was selected by Target as an Emerging Author. SOUTHERN AS A SECOND LANGUAGE is the third and final book in what Library Journal calls, "the beloved Dixie series." Lisa's fourth novel, RUSH, set inside a fictional sorority house at Ole Miss, provides not only a gaze inside the most exclusive sorority Recruitment in the country, but at the lives of both the sisters and the all African American staff.
Born and raised in Memphis, Lisa spent time as a Vermont innkeeper until three sub-zero winters sent her speeding back down South. The proud mother of two sons and a little Havanese pooch named Rosie, she and her husband live in Nashville, Tennessee.