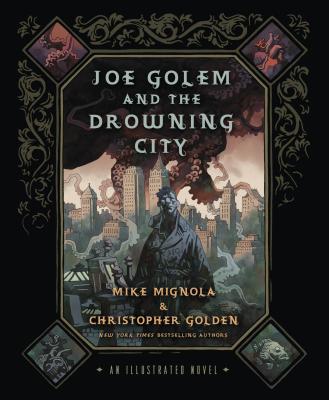 Joe Golem and the Drowning City (Paperback)
An Illustrated Novel
Griffin, 9781250020826, 295pp.
Publication Date: April 16, 2013
Other Editions of This Title:
Hardcover (3/27/2012)
Hardcover (10/16/2012)
* Individual store prices may vary.
Description
In 1925, earthquakes and a rising sea level left Lower Manhattan submerged under more than thirty feet of water, so that its residents began to call it the Drowning City. Those unwilling to abandon their homes created a new life on streets turned to canals and in buildings whose first three stories were underwater. Fifty years have passed since then, and the Drowning City is full of scavengers and water rats, poor people trying to eke out an existence, and those too proud or stubborn to be defeated by circumstance.
Among them are fourteen-year-old Molly McHugh and her friend and employer, Felix Orlov. Once upon a time Orlov the Conjuror was a celebrated stage magician, but now he is an old man, a psychic medium, contacting the spirits of the departed for the grieving loved ones left behind. When a seance goes horribly wrong, Felix Orlov is abducted by strange men wearing gas masks and rubber suits, and Molly soon finds herself on the run.
Her flight will lead her into the company of a mysterious man, and his stalwart sidekick, Joe Golem, whose own past is a mystery to him, but who walks his own dreams as a man of stone and clay, brought to life for the sole purpose of hunting witches.
"Joe Golem and the Drowning City" is a new illustrated novel from Mike Mignola, the creator of "Hellboy" and Christopher Golden.
(The paperback edition now includes the short story Joe Golem and the Copper Girl.)
About the Author
MIKE MIGNOLA is best known as the award-winning creator/writer/artist of Hellboy. Mignola lives in southern California with his wife, daughter, and cat. CHRISTOPHER GOLDEN is the award-winning, bestselling author of such novels as The Myth Hunters, The Boys Are Back in Town, Strangewood, and Of Saints and Shadows. He co-wrote the lavishly illustrated novel Baltimore, or, The Steadfast Tin Soldier and the Vampire with Mike Mignola, and the comic book series featuring the same character.
Praise For Joe Golem and the Drowning City: An Illustrated Novel…
Advance Praise for Joe Golem and the Drowning City
"Joe Golem and the Drowning City is that most marvelous kind of book—wholly original and yet completely accessible. Set in a unique world full of vivid and moving characters, it is gritty, mysterious, moving, and surprising. A brilliant combination of steampunk, fantasy, mystery, and adventure."
 —David Liss, author of The Twelfth Enchantment
"A race against supernatural disaster through a haunting, dreamlike, and partially submerged New York City full of freaks, ghosts, and other lost souls, a story that grabs from the first page and doesn't let go."
—Tad Williams
"Joe Golem and the Drowning City is a warm, wicked, frantic tale of noble monsters and monstrous men. Not merely weird and not simply gorgeous, this supernatural steampunk fable is intimate and profound. It is dreadful and sublime."
—Cherie Priest
"Mignola's affectionate, Kirby-esque portraits compliment Golden's imaginative, YA-friendly prose." - Kirkus
"The steampunk supernatural world the authors have created is unique and inventive…. Recommended for fans of Hellboy, dystopian novels, and those who like a little horror with their action stories." - Library Journal
or
Not Currently Available for Direct Purchase