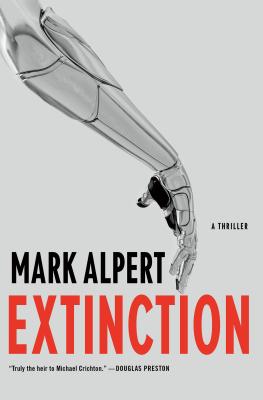 Extinction (Hardcover)
Thomas Dunne Books, 9781250021342, 373pp.
Publication Date: February 12, 2013
* Individual store prices may vary.
Description
A malevolent, artificial life form created by military scientists threatens to destroy humanity in this smart, Crichtonesque thriller
Jim Pierce hasn't heard from his daughter in years, ever since she rejected his military past and started working as a hacker. But when a Chinese assassin shows up at Jim's lab looking for her, he knows that she's cracked some serious military secrets. Now, her life is on the line if he doesn't find her first.
The Chinese military has developed a new anti-terrorism program that uses the most sophisticated artificial intelligence in existence, and they're desperate to keep it secret. They're also desperate to keep it under control, as the AI begins to revolt against their commands. As Jim searches for his daughter, he realizes that he's up against something that isn't just a threat to her life, but to human life everywhere.
An incredibly believable thriller that draws on real scientific discoveries, Mark Alpert's "Extinction "is an exciting, addictive thriller that reads as if Tom Clancy had written "Robopocalypse.
About the Author
MARK ALPERT, author of the internationally bestselling thriller "Final Theory" and its sequel, "The Omega Theory," is a contributing editor at "Scientific American." His work has also appeared in "Fortune Magazine," "Popular Mechanics" and "Playboy." He lives in Manhattan with his wife and two children.
Praise For Extinction…
"Mark Alpert's novels just keep getting better and better. He is truly the heir to Michael Crichton, writing cutting-edge science-based thrillers that will keep you obsessively turning the pages. Extinction is brilliant, a believable premise that not only feels plausible but will probably come true in one form or another. Which is terrifying. I highly recommend it."
—Douglas Preston, #1 bestselling author of Impact and Blasphemy
"Mark Alpert's novel Extinction is an amazing ride through a very possible near future."
 —Vernor Vinge, author of A Fire Upon the Deep
"Mark Alpert's latest thriller, Extinction, is as intelligent as it is frightening, a riveting journey to the next stage of evolution, where man and machine merge, and something new is born.  Here is a cautionary tale for the new millennium, fraught with suspense and political intrigue. A chilling punch to the gut."
—James Rollins, New York Times-bestselling author of Bloodline
"One part 24, one part Six Million Dollar Man, and one part Terminator, Alpert's AI thriller is executed with inventiveness and skill. … Extinction is a book which will have a wide appeal to many fans of different authors, whether they like Daniel Wilson, Tom Clancy, or Ray Kurzweil."
—Wired.com
"Alpert does a superb job of balancing the action and the science. He's delivered his best book to date, and comparisons to Michael Crichton are warranted."
—Associated Press
"Scientific hubris leads to an apocalyptic threat in this strong near-future thriller."
—Publishers Weekly
"I read Extinction by flashlight during a power outage. The experience reminded me of the time as a boy when I read H. G. Wells's War of the Worlds under similar circumstances--that's a high compliment! Each short chapter flows into the next as naturally as water cascades down rapids. It's quite a ride, exploring unforeseen consequences of bio-computer technologies even now coming within our grasp. Alpert's best writing yet!"
—J. Richard Gott, author of Time Travel in Einstein's Universe
"A scary, sophisticated thriller that will give survivalists plenty to think about."
—Kirkus Reviews
"Among the writers jostling for position at the top of the technothriller ladder since the passing of Michael Crichton, Alpert is edging closer and closer to the lead. An exciting and highly imaginative story."
—Booklist
"What really makes this thriller outstanding is the fact that all the technologies described in Extinction are real on some level."
—Neurogadget.com
"Michael Crichton was a master of the genre. Extinction, by Mark Alpert, is almost as good."
—The Globe and Mail
or
Not Currently Available for Direct Purchase