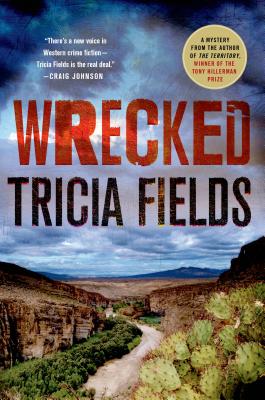 Wrecked (Hardcover)
A Mystery
Minotaur Books, 9781250021373, 320pp.
Publication Date: March 4, 2014
* Individual store prices may vary.
Description
Police Chief Josie Gray is living every cop's worst nightmare: a murder suspect who she knows personally. Even worse, it's her longtime boyfriend, Dillon Reese.
Dillon's secretary has been murdered, and now Dillon's disappeared. Josie has no choice but to relinquish the investigation to a fellow officer, giving up control of a case that matters more than any other. As suspicions split the department, Josie struggles with her choices on the night she last saw Dillon. If she had acted on her instincts, would the innocent woman still be alive?
Unable to stay on the sidelines, Josie investigates on her own terms--and uncovers a plot that could bring the killer millions. Now she must make a choice between her oath as an officer and her personal desire to get revenge.
Tricia Fields's "Wrecked "continues the Hillerman Prize-winning mystery series that captures the unique landscape and characters who populate the small towns of West Texas.
About the Author
Tricia Fields lives in a log cabin on a small farm with her husband and two daughters. She was born in Hawaii but has spent most of her life in small-town Indiana, where her husband is a state trooper. She won the Tony Hillerman Prize for her first mystery, The Territory, which was also named a Sun-Sentinel Best Mystery Debut of the Year and was followed by its sequel, Scratchgravel Road, in 2013.
Praise For Wrecked: A Mystery…
Praise for Wrecked "Wrecked is a brutal tale with beauty at its heart. A powerful story driven by the violence of the Mexican drug war, which frequently spills across the border, it's also about integrity, loyalty, and love. Small town police chief Josie Gray is one hell of a protagonist, and the harsh landscape of west Texas, which she patrols, provides a stunning backdrop to a compelling, often surprising plot. It's easy to see why Tricia Fields has become one of the authors whom fans of the mystery genre are raving about." —William Kent Krueger

"Emotionally taut, building to a breathtaking climax and portraying, in the process, the danger inherent in a Texas border town." —Booklist (starred review)

"This is a barnburner of a story and held my attention all the way through." —Reviewing the Evidence

"Tricia Fields has proved once again that West Texas noir remains hot--as hot as the desert surrounding Artemis." —Gumshoe Review

Praise for The Territory

"The Territory runs on adrenaline." —Houston Chronicle

"Buckle your seatbelts for an off-road trip full of adrenaline. Tough and determined to make her way in today's Wild West, Josie is the type of police chief you'd want in your hometown, a gutsy new heroine who would be friends with Nevada Barr's Anna Pigeon and probably Lori Armstrong's Mercy Gunderson, too." —Library Journal (starred review)

"Tricia Fields' gritty debut novel about a Texas border town battling a Mexican drug cartel feels like, well, fresh territory for a mystery. The Territory has a lot going for it." —USA Today

"The Territory provides plenty of thrills for readers, as well as food for thought." —Associated Press

"Fields builds suspense with a well-wrought cast of characters who deal with deadly violence that's particularly frightening for being all-too-believable. And no one does it better than Josie Gray. ... Readers will want to see much more of her." —Booklist (starred review)

"There's a new voice in Western crime fiction—Tricia Fields is the real deal." —Craig Johnson, author of The Cold Dish

"A fresh, confident writer of Western crime fiction. Fields captures the solitude, beauty and heat of the Chihuahuan desert, the brutal violence spilling across the border and the humanity and grit of the townspeople Chief Josie is sworn to protect." —The Dallas Morning News


"Fields's rich plotting, nonstop action, and deft characterizations show the personal side of the larger issue of drug cartels on both sides of the border." —Publishers Weekly (starred)


Praise for Scratchgravel Road

"As in Fields' Tony Hillerman Prize–winning debut: carefully integrated red herrings, a tinge of romance and dead-on descriptions of West Texas weather—oppressive heat, weeklong downpours and earth-obliterating mudslides." —Kirkus Reviews

"Noteworthy for the delineation of the west Texas desert country and the well-drawn cast of characters; Josie Gray is a protagonist worth following." —Booklist

"Fields sounds a warning on industrial dangers and their wide-ranging effects on ordinary people in this engrossing follow-up to her Hillerman Prize–winning debut. … A tense climax with a flood, mudslide, explosives, and a possible murderer add to the suspense." —Publishers Weekly
or
Not Currently Available for Direct Purchase