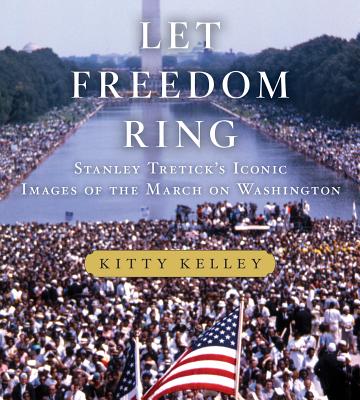 Let Freedom Ring (Hardcover)
Stanley Tretick's Iconic Images of the March on Washington
Thomas Dunne Books, 9781250021465, 176pp.
Publication Date: August 13, 2013
* Individual store prices may vary.
Description
A bestselling author and legendary photographer present an illuminating look at a pivotal moment in our nation's history: The March on Washington
Despite the heat and humidity, people came in droves from across the country and around the world, heading for the towering spire of the Washington Monument in our nation's capital. All of the marchers—black, white, Christian, and Jew—shared the same dream: freedom and equality for 19 million African Americans. Almost 300,000 strong, the marchers poured into Washington, D.C., to bear witness, to hear the immortal words of Martin Luther King, Jr., and to petition Congress to pass the President's Civil Rights bill.
Stanley Tretick, a seasoned photojournalist best known for his iconic images of President Kennedy and his family, was also in the crowd, drawing inspiration from the historic scenes unfolding before him. In this magnificent book, his stirring photographs of that day are published for the first time. Accompanied by an insightful essay and captions from bestselling author Kitty Kelley, as well as a moving foreword by Marian Wright Edelman, Let Freedom Ring commemorates the fiftieth anniversary of the March on Washington and celebrates the crescendo of the Civil Rights movement in America.
About the Author
KITTY KELLEY is an internationally acclaimed writer, whose bestselling biographies focus on some of the most influential and powerful personalities of the last fifty years. Kelley's books have been number one on The New York Times bestseller list, including Oprah: A Biography.
Praise For Let Freedom Ring: Stanley Tretick's Iconic Images of the March on Washington…
"To say that I was overcome by emotions after reading Let Freedom Ring: Stanley Tretick's Iconic Images of the March on Washington would be an understatement — particularly as I considered that only 50 years later, Barack Obama serves as president. The eloquence in these 161 pages commanded my attention from beginning to end. Kitty Kelley's essays provide context for stunning, never-before-published photographs by Tretick." —Chicago Tribune
"Turn to any page and you're likely to be moved – and reminded of work yet to be done, as Children's Defense Fund founder Marian Wright Edelman manages to do so effectively in her introduction…. Kelley's lean text, respectfully subordinated to the largely joyous, strikingly candid images by her old friend Tretick, vividly evokes a time when this nation was pregnant with both conflict and promise." —Christian Science Monitor
"Offers readers an intimate glimpse of a pivotal day 50 years ago in America's civil rights movement." —San Antonio Express-News
"A kinetic look at the march, but also a chronicle of the civil rights movement and its leaders, more journalistic in nature, a kind of documentary that appears to be without style or guile. If you have that wish of having been at the march, this is as close as you can get… These are not great pictures. They're something better than that. There are thousands of images that exist of the march. Tretick's photos have the look of news, of in the moment. They are faces caught up close. They show the multitudes carrying a message or rather hundreds of messages." —Georgetowner
"Fifty years later, a stirring evocation of the 1963 March on Washington…. Fine photos, concise text, including excerpts from remarks of the day, and a solid view of the Kennedy administration dragged into the American future." —Kirkus
"Readers are given an intimate portrait of the weeks leading up to the march, as well as iconic images of the day. Tretick (1921–1999) was a master at capturing his subjects with depth and humanity…. The book is a welcome marker of a seminal moment in American history." —Publishers Weekly
"Tretick, famous for his iconic photos of President Kennedy and his family, documents the rising hopes and tensions as blacks and whites pressed for equity and obstructionists fought their efforts…. Kelley provides narrative background and context, including the roles of such iconic figures as Robert Kennedy, Roy Wilkins, James Baldwin, and A. Philip Randolph. This inspirational book also includes excerpts of speeches by King and others." —Booklist
or
Not Currently Available for Direct Purchase