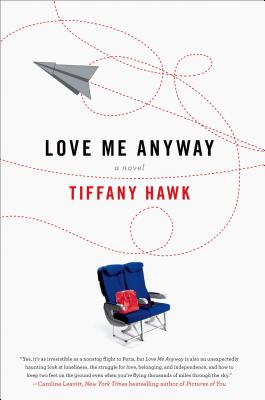 Love Me Anyway (Hardcover)
Thomas Dunne Books, 9781250021472, 308pp.
Publication Date: May 7, 2013
* Individual store prices may vary.
or
Not Currently Available for Direct Purchase
Description
A darkly funny, compulsively readable debut novel about two young flight attendants coming of age at 35,000 feet
When twenty-three-year-old Emily Cavenaugh's marriage to her abusive high school sweetheart ends, she trades in her dull smalltown life for an all-access pass to see the world as a flight attendant. Hoping for a new start, she moves to San Francisco to bunk with six other new flight attendants. Among them is KC Valentine, a free spirit who encourages Emily to shed her mousy ways and start collecting experiences as exciting as her passport stamps. Emily soon follows KC's advice a little too well, falling in love with an older, married co-worker named Tien, a father to two young girls. But as Emily and Tien become more deeply entangled, KC grows distraught. Neither her friends nor co-workers know the real reason she became a flight attendant: to find her father who abandoned her as a child. As Emily and KC fly from Vegas to Boston, San Francisco to London, Chicago to Delhi, each searching for love and acceptance, they're torn between passion and moral conviction, freedom and belonging.
An assured debut from a former flight attendant, "Love Me Anyway" deftly captures the complexities of love, friendship, and family, the excitement and loneliness that come from living everywhere and nowhere, and the surprising detours life can take when you set out to discover the world.
About the Author
A former flight attendant, TIFFANY HAWK is a graduate of UCLA and the MFA program at UC Riverside. Her essays and stories have appeared in The New York Times, The Los Angeles Times, The Huffington Post, National Geographic Traveler, The Potomac Review, StoryQuarterly, and NPR's "All Things Considered." A few years ago, she did the one thing flight attendants aren't supposed to do and married a pilot. Together with their son, she and her husband now live wherever the Air Force sends them.
Praise For Love Me Anyway…
"A debut novel, both funny and sad, from a former flight attendant, about two flight attendants. The chapters that describe the work conditions and requirements of the service end of flying will have readers laughing out loud. The chapters that delve into the painful past experiences of the two young women who took to the skies to find happier futures will draw tears…. Readers will find the book's two heroines well worth knowing." –Kirkus

"A fascinating snapshot of an industry seldom explored in fiction." –Publishers Weekly

"Think of a toned down Fifty Shades of Grey with steamy love affairs, funny flight anecdotes and a whole lot more adventure and possibility with each new passport stamp…The quick beach read weaves an intricate tale of love, friendship, moral conviction and self-discovery. Buckle up, it's a bumpy but thrilling ride full of scandals and an all access behind-the-scenes look at the airline industry's emotional side. While I hope one day I'll see Megan Hilty play the role of the bubbly blonde KC, there's one thing I know for sure: Love Me Anyway is the perfect accompaniment for the toes-in-the-sand, (low-cal) cocktail-in-hand summer bliss." –Fitnessmagazine.com
"Yes, it's as irresistible as a non-stop flight to Paris, but Love Me Anyway is also an unexpectedly haunting look at loneliness, the struggle for love, belonging and independence, and how to keep two feet on the ground even when you're thousands of miles in the sky."

--Caroline Leavitt, New York Times bestselling author of Pictures of You

"Love Me Anyway knocked me out. While it's true that the last book I read about flight attendants was Coffee, Tea or Me? in the sixth grade, I wasn't prepared for the emotional depth and unsparing candor Tiffany Hawk brings to her poignant debut novel. By creating fully dimensional characters with rich, complex lives, Hawk elevates this coming-of-age tale to an indelible portrait of women striving to better themselves."

--Jillian Medoff, bestselling author of I Couldn't Love You More and Hunger Point

"Love Me Anyway is so much more than an inside look at the life of flight attendants. Dark, funny, beautifully written and continually surprising, Hawk follows two lonely women who don a uniform and take to the skies to find independence, and maybe themselves in the process. Not only impossible to put down, this one sticks with you long after you close the final pages."

--Julie Buxbaum, author of The Opposite of Love and After You

"Love Me Anyway is a funny, sharp and touching look at a time in our lives when most of us are up in the air -- some more literally than others. It reminded me, in the best way, that no matter how far-flung our searching takes us, we're all looking for the same thing."

--Lauren Fox, author of Friends Like Us and Still Life with Husband

"Tiffany Hawk's sparkling debut novel is a deeply felt and deeply funny look at a couple of female flight attendants as they search for love and meaning, and try to fit their emotional baggage into the overhead compartment."

--Mark Haskell Smith, author of Baked

"A finely observed, richly drawn look into the life in and below the not-always-friendly skies. Hawk deftly balances the funny, the painful and the tender, and you will be hard-pressed not to connect with her characters. It feels like your best friend is a flight attendant, and she's letting you in on her darkest secrets. Buckle yourself into the jump seat and you won't put the book down until you land."

--Elizabeth Crane, author of We Only Know So Much and You Must Be This Happy to Enter
"This book takes you on an adventure around the world. I felt like I was right there with them as they flew to London, India, Hawaii and beyond. I found the characters to be likeable and I enjoyed seeing how they each overcame their struggles, who they turned to and how their lives changed. I thought the book was very well written and enjoyed it very much. I would definitely recommend this book to others. It was the type of book that you hated to put down and couldn't wait to find out what happened next." –chicklitcentral.com
"Tiffany Hawk shows that it's how we handle those moments of trouble that define who we are and who we can be… There are moments so heartbreaking and honest that I had to close the book. And there are moments so graphically hysterical that I rolled on the bed with laughter." --chicklitplus.com


"Excellent… With grace, authority, and wit, Hawk illuminates both the exhilaration and loneliness of [Emily and KC's] vocation…. Hawk writes about her former profession with love and a wonderful sense of solidarity. Love Me Anyway is one of those rare books that make us look and actually see an entire group of people for the first time. Next time you take a flight, you'll pay extra attention to the safety demonstration, not because you're suddenly more interested in your own life, but because you're suddenly more interested in the life of your flight attendant." –TheRumpus.net
Advertisement