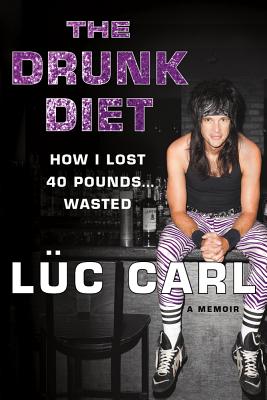 The Drunk Diet (Paperback)
How I Lost 40 Pounds . . . Wasted: A Memoir
St. Martin's Griffin, 9781250021977, 272pp.
Publication Date: March 12, 2013
Other Editions of This Title:
Hardcover (3/13/2012)
* Individual store prices may vary.
Description
"The Drunk Diet" is the beer-soaked tale of a long-haired, leather-clad Rock 'N Roll party-maker who transformed a whiskey-and-5-A.M.-cheeseburger lifestyle into a wildly successful weight-loss regime.
Luc Carl fit the part as a bar manager in New York City's gritty Lower East Side with his snakeskin spandex pants and hot rod. And life was good for this Omaha, Nebraska, transplant a talented drummer who originally moved to the big city to pursue his Rock 'N Roll dreams until, suddenly, it wasn't. Fast forward through seven years of working long hours, bingeing on late-night Chinese food, and drinking excessively; life had found Luc forty pounds overweight and completely out of shape. But after reading countless fitness books and being told time and again that it's impossible to lose weight while drinking alcohol he decided to take matters into his own hands to transform his body and his life "his" way a sort of "f*ck you" to all those so-called experts.
Full of charismatic wit and raucous stories about his life, "The Drunk Diet" will inspire and challenge you to become fitter, healthier, and happier. Luc's fitness philosophy isn't about following a list of rigid rules, but discovering what you're personally willing to change about your lifestyle in order to reach your goals. For him, that meant trading in the crap he was eating for unprocessed, natural foods and embracing a newfound love for exercise, but never sacrificing his social life (or his love for cold beer).
This is the story of how one chain-smoking, hard-partying, self-proclaimed "out-of-shape, bloated asshole" grew into an avid runner and cyclist and, ultimately, a happier version of himself.
About the Author
Luc Carl is an author, the voice of rock 'n roll on SiriusXM satellite radio, long-distance runner, semi-professional bowler, drummer, party maker, and running coach having multiple certifications in track & field and endurance. After moving to the big city at a young age, he worked is way up, managing his own rock 'n roll bar by the age of 25. After years of hard living his quest to become the sexiest man in the world has been chronicled on his wildly successful blog. He is originally from Omaha, NE. Go Big Red.
Praise For The Drunk Diet: How I Lost 40 Pounds . . . Wasted: A Memoir…
Praise for THE DRUNK DIET:
"Make no mistake. Lüc Carl is the real deal." —Runners World, November 2012 Issue

"In his frank and funny book The Drunk Diet, Lüc Carl shares legit running tips." —Runners World, April 2012 Issue

"If you need motivation to ride, run, or just eat better, you'll find Carl to be an inspirational cheerleader for the healthy rock-and-roll life." —Bicycling Magazine

"What happens when a rock 'n' roll bartender finds that too many nights of boozing and eating pizza pile on the pounds? "The Drunk Diet" — which, despite its title, means learning to love running, and drinking in moderation." —USA Today

"Tipping the profanity scale by dropping the F-bomb 288 times, this long-haired, leather-loving nontraditional-diet guru proves that by swapping midnight burger binges and processed junk for exercise and natural foods, you too can get back into your spandex tippling as you go." —Vanity Fair

"His enthusiasm is infectious, and you are basically hearing him talk through the page. That's a rarity for any writer to achieve." —The Examiner.com

"His book chronicles his journey to thin and proves that boozing and losing needn't always be mutually exclusive. You might not party like Lüc, but you can still learn from him about keeping your belly flat when your tumbler's full." —MensHealth.com

"Carl is refreshingly up-front...ample amounts of sensible advice, whether you're lookin to get ripped or just drop a few pounds." —Penthouse Magazine

"I could open the book to any page and be amused at the way he tells his story, but his method is reliable and his information true." —The Dallas Morning News

"Rock 'N Roll Jesus" —The Dudley and Bob Morning Show, 93.7 KLBJ The Rock of Austin, TX

"The Drunk Diet couldn't have come at a better time in my life. After 20 years working as a chef, eating all day, drinking all night and then eating AGAIN at 5 am, something had to change. But I didn't even know how to begin changing decades long bad habits; Lüc Carl demonstrates that YOU truly are the key to your own health and happiness—not expensive gym memberships or unrealistic diet plans developed by "experts". This is as straight forward as it gets, with real advice that WILL change your life." —Chris Santos, Celebrity Chef (Stanton Social, Beauty & Essex, and the Food Network's Chopped)
"Rock n Roll + long hair + whiskey + beer - cigarettes - 5 A.M. cheesesteaks + balls + running + cycling + broccoli - 40 pounds = The Drunk Diet." —Brian Newman, jazz trumpeter and singer
or
Not Currently Available for Direct Purchase