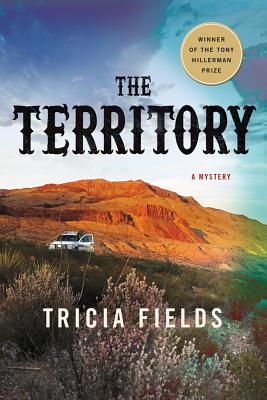 The Territory (Paperback)
A Novel (Josie Gray Mysteries #1)
Minotaur Books, 9781250023056, 288pp.
Publication Date: February 19, 2013
* Individual store prices may vary.
Description
At the end of State Road 170 lies Artemis, population 2500. The townspeople had sought out this remote corner of western Texas in hopes of living lives of solitude and independence. None of them realized that their small town would become a hot spot for Mexican drugrunners, whose turf battles have turned both sides of the Rio Grande into a war zone. Still, many of the locals would rather take the law into their own hands than get help from police chief Josie Gray, even when they're up against a cartel's private army.
After arresting one of the cartel's hitmen and killing another, Josie finds her own life at risk for doing a job which many people would rather see her quit. And when the town's self-appointed protector of the Second Amendment is murdered, it's clear that she doesn't have to pick sides in this war. She's battling them both.
Set in a desert landscape as beautiful as it is dangerous, Tricia Fields' The Territory, winner of the 2010 Tony Hillerman Prize and named a Sun-Sentinel Best Mystery Debut of the Year, captures the current border issues from the eyes of a tough, compelling heroine.
About the Author
Tricia Fields lives in a log cabin on a small farm with her husband and two daughters. She was born in Hawaii but has spent most of her life in small town Indiana, where her husband is a state trooper. She won the Tony Hillerman Prize for her first mystery, The Territory, which was also named a Sun-Sentinel Best Mystery Debut of the Year.
Praise For The Territory: A Novel (Josie Gray Mysteries #1)…
"A Sun-Sentinel Best Mystery Debut of the Year" —Sun-Sentinel
"Buckle your seatbelts for an off-road trip full of adrenaline. Tough and determined to make her way in today's Wild West, Josie is the type of police chief you'd want in your hometown, a gutsy new heroine who would be friends with Nevada Barr's Anna Pigeon and probably Lori Armstrong's Mercy Gunderson, too." —Library Journal (starred review)
"Fields's rich plotting, nonstop action, and deft characterizations show the personal side of the larger issue of drug cartels on both sides of the border." —Publishers Weekly (starred review)
"Fields builds suspense with a well-wrought cast of characters who deal with deadly violence that's particularly frightening for being all-too-believable. And no one does it better than Josie Gray, who persists in the face of unspeakable danger. Readers will want to see much more of her." —Booklist (starred review)
"Tricia Fields' gritty debut novel about a Texas border town battling a Mexican drug cartel feels like, well, fresh territory for a mystery. The Territory has a lot going for it, in addition to its newsy storyline." —USA Today
"The Territory provides plenty of thrills for readers, as well as food for thought, as it examines the problems that Mexico's drug cartels, their wealth and their ruthlessness present for small U.S. communities along the Texas border." —Associated Press
"Police Chief Josie Gray is an unforgettable character. ... Tricia Fields' The Territory is an exciting debut in a series that has much promise. It is highly recommended for fans of noir, especially Texas noir." —Gumshoe Review
"Less a police procedural whodunit than a portrait of a town in constant crisis, [The Territory] runs on adrenaline." —Houston Chronicle
"I really enjoyed this book - its sexy heroine, its dramatic landscapes of the Chinati Mountains and its strong plotting that includes a breathless chase through an "arroyo" in brownout conditions. One of the novel's themes - that decent people working both sides of the border are under regular threat from violent bajadores as much as from uninformed budget cuts - is a particularly harrowing one." —Journal Sentinel
"The Territory introduces a fresh, confident writer of Western crime fiction. For a debuting author, Tricia Fields dives right in. ... Fields captures the solitude, beauty and heat of the Chihuahuan desert, the brutal violence spilling across the border and the humanity and grit of the townspeople Chief Josie is sworn to protect." —Dallas Morning News
"[A] terrific first novel, ... both promising and satisfying." —Sullivan County Democrat
"Set in the beautiful but dangerous desert, the book captures current border issues from the viewpoint of a small town's law enforcement officer." —NewsOK.com
"The Territory has it all: believable characters, a terse plot, and an accurate depiction of a section of the Texas/Mexican border that's a virtual war zone. This is a gritty contemporary crime novel that's lifted above the pack by the intense humanity of its female protagonist. Don't miss it." —Milton T. Burton, author of Nights of the Red Moon
"There's a new voice in Western crime fiction--Tricia Fields is the real deal." —Craig Johnson, author of The Cold Dish and Hell is Empty
"With a sure voice and ferocious pacing, Fields enters the crime fiction work with an entertaining, beautifully executed novel that belies its debut status. Crime fiction readers who yearn for wide-open spaces, characters with real heartbeats, and stories that ring true will welcome Fields and wait breathlessly for the next installment in this exciting new series." —M.J. Rose, author of The Reincarnationist
"As an expat West Texan, I love a story that authentically captures the special qualities of far-West border life, and The Territory does just that. Tricia Field's engaging mystery is as much about its people as its plot, a portrait of complicated, yearning, striving folks. Some have fallen to their worst impulses, and villainy chomps at the edges of civilized life. But others, like the delightfully stubborn and surprisingly tough Police chief, Josie Gray, do their best to bring peace and safety to their town, and love to their hearts." —Sandra Scofield, author of Occasions of Sin, Winner of a Best Fiction award from the Texas Institute of Letters, and finalist for the National Book Award