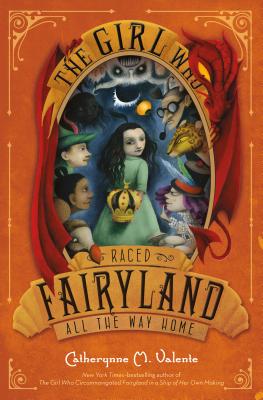 The Girl Who Raced Fairyland All the Way Home (Hardcover)
Feiwel & Friends, 9781250023513, 320pp.
Publication Date: March 1, 2016
Description
This final book in the New York Times-bestselling Fairyland series finds September accidentally crowned the Queen of Fairyland. But there are others who believe they have a fair and good claim on the throne, so there is a Royal Race--whoever wins will seize the crown.
Along the way, beloved characters including the Wyverary, A-Through-L, the boy Saturday, the changelings Hawthorn and Tamburlaine, the wombat Blunderbuss, and the gramophone Scratch are caught up in the madness. And September's parents have crossed the universe to find their daughter.
Who will win? What will become of September, Saturday, and A-Through-L? The answers will surprise you, and are as bewitching and bedazzling as fans of this series by Catherynne M. Valente have come to expect.
About the Author
Catherynne M. Valente is the author of over a dozen books of fiction and poetry, and is best-known for her urban speculative fiction, including Palimpsest (winner of the 2010 Lambda Award), and The Orphan's Tales: In the Night Garden. The Girl Who Raced Fairyland All the Way Home, her first novel for young readers, was posted online in 2009 and won the Andre Norton Award--the first book to ever win before traditional publication. Cat Valente lives on an island off the coast of Maine with her partner, two dogs, and an enormous cat.Ana Juan is a world-renowned illustrator known in this country for her wonderful covers for the New Yorker magazine, as well as the children's books The Night Eater, and Frida, written by Jonah Winter. She lives in Spain.
Advertisement