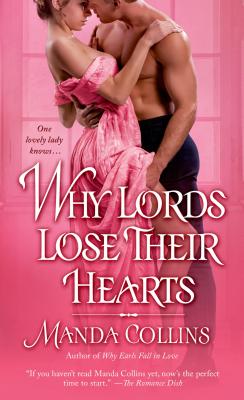 Why Lords Lose Their Hearts (Mass Market Paperbound)
St. Martin's Press, 9781250023865, 305pp.
Publication Date: July 29, 2014
* Individual store prices may vary.
or
Not Currently Available for Direct Purchase
Description
THE TRUTH COULD RUIN HER
In Manda Collins's "Why Lords Lose Their Hearts," Perdita, the widowed Duchess of Ormonde, keeps a dangerous secret-the truth of how her brutish husband died. But a mysterious avenger seems to know it, too, and when anonymous threats turn into public attacks, there's only one friend she can turn to for help-her husband's former secretary, Lord Archer Lisle. The man who witnessed her every heartache. The kind of man whose love she can only dream of
WILL HIS LOVE SAVE HER?
The youngest of the Duke of Pemberton's five sons, Lord Archer Lisle is used to waiting his turn. For years, he could only stand by, seething, as Perdita suffered at the hands of her husband, but now she's under threat from another source-one who will stop at nothing to make her pay for the late duke's death. But the good-natured Archer can be dangerous when crossed-and he'll do anything to keep the woman he's adored for so long safe in his arms
"Absolutely delightful an emotion-packed, passionate historical romance"
"-Romance Junkies," 5 stars (on "How to Romance a Rake")
About the Author
Manda Collins spent her teen years wishing she'd been born a couple of centuries earlier, preferably in the English countryside. Time travel being what it is, she resigned herself to life with electricity and indoor plumbing, and read lots of books. When she's not writing, she's helping other people use books, as an academic librarian.
Praise For Why Lords Lose Their Hearts…
Praise for Manda Collin's delicious Regency novel…
HOW TO ROMANCE A RAKE"With her trademark wit and charm, Manda Collins has penned a deeply romantic and emotionally satisfying story in
How to Romance a Rake
. Her heroine is plucky and tremendously appealing, and I cheered for her well-earned happily ever after."
—
Vanessa Kelly, award-winning author o
f Sex And The Single Earl
 "Collins' second installment of the Ugly Duckling trilogy is both a lovely, sensitive romance and a taut thriller. Collins brings a dashing hero and a wounded wallflower together in the type of love story readers take to heart. With compassion and perception, she delves into the issues faced by those who survive physical and emotional trauma. Brava to Collins!"
—RT Book Reviews
, 4 stars "Absolutely delightful,
How to Romance a Rake
, the second book in talented author Manda Collins' Ugly Duckling series, is an emotion-packed, passionate historical romance"
—Romance Junkies
, 5 stars, Blue Ribbon Review
 "How to Romance a Rake
is a wonderfully moving story about two damaged people coming together to form a unique bond. Manda Collins is now on my auto-buy list, and I can't wait for the final book in this series."
—Rakehell, Where Regency Lives
 "
How to Romance a Rake
is a wonderful story in which a quiet and shy heroine triumphs over adversity, overcoming obstacles to win the heart of one of London's most eligible bachelors. It is the sort of story that warms the heart and reaffirms the notion that love conquers all. Books like
How to Romance a Rake
are why I read romance."
—Romance Novel News
 "The passion sizzles in this book and while Collins delves into deeply emotional issues she also infuses her stories with plenty of humor along with a terrific secondary cast…If you haven't read Manda Collins yet, now's the perfect time to start.
How to Romance a Rake
is going straight to my keeper shelf. I highly recommend it!"
—The Romance Dish
Advertisement