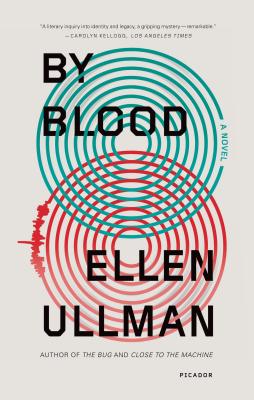 By Blood (Paperback)
Picador USA, 9781250023964, 384pp.
Publication Date: December 24, 2012
Description
A "New York Times" Notable Book of the Year
San Francisco, the 1970s. A disgraced professor takes an office in an old downtown building to plot his return. But he is distracted by the sounds coming from the next room, the office of a psychiatrist. He overhears the therapy sessions of a young lesbian who is in search of her adoptive family. Enraptured by the sound of her voice and obsessed with her story, the professor takes up the patient's quest as his own and discovers the disturbing truth about her origins. As he sends each new revelation to the patient---disguised as correspondence from an adoption agency---she is energized by the information, but finds herself unmoored from everything she thought she knew about herself. With ferocious intelligence and enthralling, magnetic prose, Ellen Ullman's "By Blood" is a dark and brilliant novel about connection, identity, history, and the terrible desire to influence another life.
About the Author
Ellen Ullman is the author of a novel, The Bug, a New York Times Notable Book and runner-up for the PEN/Hemingway Award, and the cult classic memoir Close to the Machine, based on her years as a rare female computer programmer in the early years of the personal computer era. She lives in San Francisco.
Praise For By Blood…
"A literary inquiry into identity and legacy, a gripping mystery---remarkable."—Carolyn Kellogg, Los Angeles Times
"A thrilling page-turner of a book…Book clubs of America, take note. By Blood is what you should be reading. Ullman is someone we should all be reading."—Ed Siegel, Newsday
"Ullman arranges her players efficiently, expertly. But what astounds is how she binds them to one another….What a cast of master prevaricators she gives us, how far she makes them travel."—Parul Sehgal, The New York Times Book Review
"A mesmerizing tale that probes the very heart of personal identity."—Alice LaPlante, More
"[By Blood] thematically interweaves fate, identity, obsession, and genetics....It's a multilayered mystery (in the same way that Dostoevsky was a mystery writer)."—Kirkus Reviews
"Extraordinary…Proceeding in bursts of hydraulic prose, By Blood evokes San Francisco in all its stagflation gloom: the erotic danger of its nightlife, the coded nature of its transactions....Riveting."—John Freeman, The Boston Globe
Advertisement