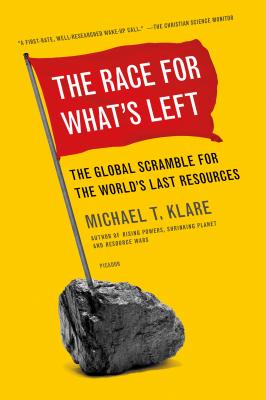 The Race for What's Left
The Global Scramble for the World's Last Resources
Paperback

* Individual store prices may vary.
Description
"As Michael Klare makes clear in this powerful book, the heads of our corporate empires have decided to rip apart the planet in one last burst of profiteering. If you want to understand the next decade, I fear you better read this book."---Bill McKibben, author of Eaarth

The world is facing an unprecedented crisis of resource depletion---a crisis that encompasses shortages of oil and coal, copper and cobalt, water and arable land. With all of the Earth's accessible areas already being exploited, the desperate hunt for supplies has now reached the final frontiers. The Race for What's Left takes us from the Arctic to war zones to deep ocean floors, from a Russian submarine planting the country's flag under the North Pole to the large-scale buying up of African farmland by Saudi Arabia and other food-scarce nations. With resource extraction growing more difficult, the environmental risks are becoming increasingly severe---and the intense search for dwindling supplies is igniting new conflicts and territorial disputes. The only way out, Michael T. Klare argues, is to alter our consumption patterns altogether, a crucial task that will be the greatest challenge of the coming century.
Praise For The Race for What's Left: The Global Scramble for the World's Last Resources…
"A first-rate, well-researched wake-up call." —The Christian Science Monitor

"Outstanding…Exhaustively researched, beautifully written, and convincingly argued." —The Huffington Post

"Stunning." —Rolling Stone

"Reading this book, it's hard not to think about postapocalyptic fiction….Think Margaret Atwood, Cormac McCarthy, and, most recent, Suzanne Collins's Hunger Games. Yet novelists often skip over the messy parts along the road to dystopia. It's scary to think that Klare, far from crying wolf, might be providing the sordid details in real time." —Science News

"If you think oil is the only major thing we're running short of, think again.…Crisp, authoritative…A guidebook to wars to come." —Adam Hochschild, author of King Leopold's Ghost
Picador, 9781250023971, 320pp.
Publication Date: December 24, 2012
About the Author
Michael T. Klare is the author of more than fifteen books, including Resource Wars and Rising Powers, Shrinking Planet. A contributor to Current History, Foreign Affairs, and the Los Angeles Times, he is the defense correspondent for The Nation and the director of the Five College Program in Peace and World Security Studies at Hampshire College in Amherst, Massachusetts.
or
Not Currently Available for Direct Purchase