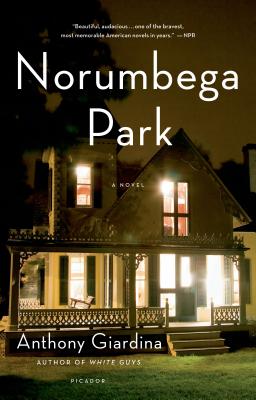 Norumbega Park (Paperback)
Picador USA, 9781250024091, 325pp.
Publication Date: March 5, 2013
Description
Richie Palumbo, the most ordinary of men, gets lost one night in 1969 while driving with his family. He finds himself in Norumbega a gorgeous, hidden town on the far edges of Boston's western suburbs. He sees a venerable old house and, without quite knowing why, decides that he must have it. Richie's wild dream sets his family on a forty-year odyssey in which they confront class and parental dreams, sex and spirituality, and the way hopes conflict with reality. Anthony Giardina's "Norumbega Park" is a brilliant, sensuous drama of suburban angst a novel that mines the depths of desire and its abiding consequences.
About the Author
Anthony Giardina is the author of four previous novels, most recently White Guys, and one collection of stories. His short fiction and essays have appeared in Harper's Magazine, Esquire, GQ, and The New York Times Magazine, and his plays have been widely produced. He is a regular visiting professor at the Michener Center for Writers at the University of Texas, Austin. Giardina lives in Northampton, Massachusetts.
Praise For Norumbega Park…
"Beautiful, audacious...One of the bravest, most memorable American novels in years."—NPR

"Norumbega Park delves into what is hidden...the subtle nuances of class; the charged eroticism between siblings, between husband and wife, between parents and children; the examination of faith and its loss—all are explored in rich, believable ways."—Jennifer Gilmore, The New York Times Book Review

"A page-turner…Every scene is grounded in earthy, evolving characters and takes place at a turning point in their lives. The author has his own ambitions---and he avoids disappointment."—The Wall Street Journal

"Giardina is an artist who delicately but firmly presses every moment for its truth and passes up every chance for easy sentimentality. There isn't a false note in this vividly melancholy book."—The Washington Post

"Provocative...A rich and rewarding book filled with wisdom about how we live and how we fail to live, gripped by dreams we can neither fulfill nor forget."—The Dallas Morning News

"Giardina complicates the story in surprising ways.…His intelligence and daring are clear."—Minneapolis Star Tribune

"An immensely heartfelt and successful novel: tender, tasteful, intelligent, and touching."---Jim Crace
Advertisement