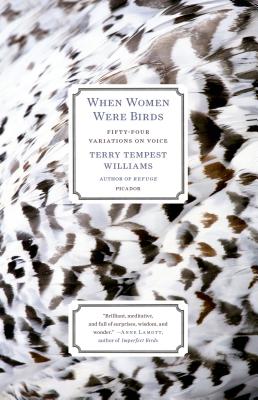 When Women Were Birds
Fifty-four Variations on Voice
Paperback

* Individual store prices may vary.
Description
NATIONAL BESTSELLER
A Kansas City Star Best Book of the Year

"Brilliant, meditative, and full of surprises, wisdom, and wonder."—Ann Lamott, author of Imperfect Birds

"I am leaving you all my journals, but you must promise me you won't look at them until after I'm gone." This is what Terry Tempest Williams's mother, the matriarch of a large Mormon clan in northern Utah, told her a week before she died. It was a shock to Williams to discover that her mother had kept journals. But not as much of a shock as it was to discover that the three shelves of journals were all blank. In fifty-four short chapters, Williams recounts memories of her mother, ponders her own faith, and contemplates the notion of absence and presence art and in our world.

When Women Were Birds is a carefully crafted kaleidoscope that keeps turning around the question: What does it mean to have a voice?
Praise For When Women Were Birds: Fifty-four Variations on Voice…
"Williams displays a Whitmanesque embrace of the world and its contradictions....As the pages accumulate, her voice grows in majesty and power until it become a full-fledged aria." —San Francisco Chronicle

"This poetic memoir continues the work Williams began in Refuge....Williams explores her mother's identity--woman, wife, mother, and Mormon--as she continues to honor her memory....A lyrical and elliptical meditation on women, nature, family, and history." —The Boston Globe

"Williams is the kind of writer who makes a reader feel that [her] voice might also, one day, be heard….She cancels out isolation: Connections are woven as you sit in your chair reading---between you and the place you live, between you and other readers, you and the writer. Without knowing how it happened, your sense of home is deepened." —Susan Salter Reynolds, The Daily Beast

"Time, experience, and uncanny coincidence spiral through these pages….When Women Were Birds is an extraordinary echo chamber in which lessons about voice--passed along from mother, to daughter, and now to us--will reverberate differently in each inner ear." —The Seattle Times

"A beautiful, powerful, important book….Nothing I've ever read has done this to me. Is this what religious people feel when they pray, I wonder? ...Terry Tempest Williams has written something that has revealed me and affirmed me and changed me. In sharing her voice, she has summoned mine." —Rebecca Joines Schinsky, Book Riot

"In some ways When Women Were Birds functions as a detective story, an attempt to solve a mystery. But it's also a realization that often there are no answers…there's only the present." —The Salt Lake Tribune

"A lyrical, timeless book that rewards quiet, attentive reading--a rare thing." —The Huffington Post

"At some point I realized I was reading every page twice trying to memorize each insight, each bit of hard-won wisdom. Then I realized I could keep it on my bedside table and read it every night." —Pam Houston, author of Contents May Have Shifted
Picador, 9781250024114, 256pp.
Publication Date: February 26, 2013
About the Author
Terry Tempest Williams is the award-winning author of The Hour of Land: A Personal Topography of America's National Parks; Refuge: An Unnatural History of Family and Place; Finding Beauty in a Broken World; and When Women Were Birds, among other books. Her work is widely taught and anthologized around the world. A member of the American Academy of Arts and Letters, she is currently the Writer-in-Residence at the Harvard Divinity School and divides her time between Cambridge, Massachusetts and Castle Valley, Utah.