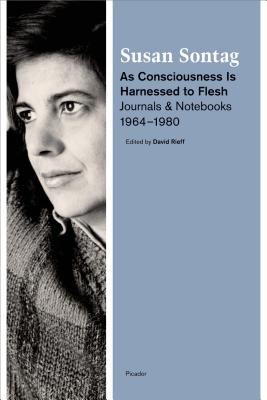 As Consciousness Is Harnessed to Flesh: Journals and Notebooks, 1964-1980 (Paperback)
Journals and Notebooks, 1964-1980
Picador USA, 9781250024121, 523pp.
Publication Date: July 30, 2013
Description
A "Financial Times" Best Book of 2012
From the turbulent years of her trip to Hanoi at the peak of the Vietnam War to her time making films in Sweden and up to the eve of the 1980 election, "As Consciousness Is Harnessed to Flesh" documents the evolution of an extraordinary mind. The 1966 publication of Against Interpretation propelled Susan Sontag from the periphery of New York City's artistic and intellectual milieu into the international spotlight, solidifying her place as a dominant force in the world of ideas. These entries are an invaluable record of the inner workings of one of the most inquisitive and analytical thinkers of the twentieth century.
About the Author
Susan Sontag (1933-2004) was the author of numerous works of non-fiction, including the groundbreaking collection of essays Against Interpretation (FSG, 1966), and of four novels, including In America (FSG, 2000), which won the National Book Award.
Praise For As Consciousness Is Harnessed to Flesh: Journals and Notebooks, 1964-1980…
"These journals present the opportunity to delve deeply into the soul of Susan Sontag….Magnificent."—Nancy D. Kates, San Francisco Chronicle
"If Reborn is Sontag's precocious coming-to, this sequel finds her there, a somebody….She fills her journals with flinty thoughts….It's impossible to read these journals and not experience the warmer side of her ambition: her deep admiration for certain artists around her, her animating wish to encourage and promote."—Emily Greenhouse, The New Yorker
"A little like her criticism, her diary entries combine her interests with bright, aphoristic turns of phrase....These diaries are a reminder of the value of the work that made her great, and also mysterious---partly (and forever)---escaping from view."—The Economist

Advertisement