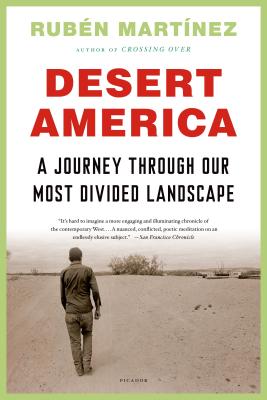 Desert America (Paperback)
A Journey Through Our Most Divided Landscape
Picador, 9781250024145, 352pp.
Publication Date: June 25, 2013
Other Editions of This Title:
Hardcover (9/11/2012)
* Individual store prices may vary.
Description
"Desert America is an uninsulated wire running through the hard-bitten, right-now, rough-edged Southwest, a land still being born. Go ahead and grab hold: first comes shock—maybe of recognition, maybe alarm—then you keep buzzing for page after electric page. You can't let go."—William deBuys, author of A Great Aridness and River of Traps

The economic boom—and the devastation left in its wake—was writ nowhere as large as on the American West. Over the past decade, the most iconic of American landscapes has undergone a political and demographic upheaval comparable only to the opening of the frontier. In Desert America, a work of powerful reportage and memoir, acclaimed author Rubén Martínez explores a world of extremes: drug addiction flourishing in the shadow of some of America's richest zip codes, an exclusive Texas enclave that coexists with bloodshed on the banks of the Rio Grande, and Native Americans hunting down Mexican migrants crossing the most desolate stretch of the border.
Desert America details Martinez's own love for this most contested region and reveals that the great frontier is now in the forefront of the vast disparities that are redefining the very idea of America.
About the Author
Rubén Martínez, an Emmy-winning journalist and poet, is the author of Crossing Over and The New Americans. He lives in Los Angeles, where he holds the Fletcher Jones Chair in Literature and Writing at Loyola Marymount University.
Praise For Desert America: A Journey Through Our Most Divided Landscape…
"It's hard to imagine a more engaging and illuminating chronicle of the contemporary West....A nuanced, conflicted, poetic meditation on an endlessly elusive subject." —San Francisco Chronicle
"Deeply moving and insightful...A memoir that also manages to be an excellent work of reportage… Martínez treats all the people he writes about, and the places where they live, with the kind of profound respect all too rare among the legions of Western writers who have preceded him. The result is an emotional and intellectually astute portrait of communities long neglected and misunderstood by American literature." —Los Angeles Times
"A compelling and daring book, one filled with equal parts confession, history, and politics...Desert America will challenge every idea you may have formed about life and death in our Western deserts." —Los Angeles Review of Books
"Unflinching...A sensitive, intricate perspective on the boom and bust cycle that characterizes the dry landscape of the American Southwest." —NBC Latino
"A savage journey into terror, cacti, drugs, desperation and all-around anomie in the superheated atmosphere of the desert Southwest...A necessary chronicle of a weird corner of America." —Kirkus Reviews (starred review)
"Martínez offers reportage beyond the simple binaries of the immigration issue or the drug war. He delivers a lively, compassionate intervention into our collective conception of the Southwest...This thoughtful and well-written account intimately explores the convolutions of racism and class conflict that have come to define a divided America." —Publishers Weekly
"After burn-outs in LA and Mexico City, Martínez flees to the desert in the hope that fierce, simplifying landscapes will cure his urban addictions. But he quickly discovers that the desert, far from a bohemian alternative, is actually the crisis of working-class American life reframed in the starkest existential terms. At this crossroads, where other writers would have surrendered to the darkness, Martínez instead looks toward the light. While the narrative is always honest and hard-headed, no book that I've read in the last twenty years has inspired so much genuine hope for the future of the West." —Mike Davis, author of Planet of Slums
"Most people experience the desert by car--they drive, stop to get gas, drive on, and after a while, they don't see it anymore. Now the big plan is to cover the desert with solar panels and in ten years or less, it will all be gone, just like that. Maybe then, Rubén Martínez's testament will be as close as you can get to the living feel of this beautiful land. After reading, I bet you'll want to drive out there and take a look. But you better hurry." —Ry Cooder, guitarist, singer, composer, and author of Los Angeles Stories
"Desert America is a thorough, heartfelt, must-read for anyone investigating the West's state of economic and spiritual shambles." —Ana Castillo, author of The Guardians
"Rubén Martínez offers a vision of the mythic West, complete with cowboys and drug mules, vistas and tract developments. But the desert sand under Martínez is constantly shifting, and his writing is fluid enough to capture this shift--he knows that all he can seek is the idea of the West." —Nick Flynn, author of Another Bullshit Night in Suck City
"Rubén Martínez comes at his topics through side doors. He surprises. The result here is a disturbing and moving book. Searing, erudite, evocative, gritty, and funny are not adjectives I often apply to a single book, but there are few writers as singular as Martínez." —Richard White, author of Railroaded: The Transcontinentals and the Making of Modern America