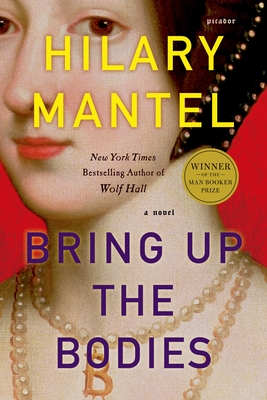 Bring Up the Bodies
A Novel (Wolf Hall Trilogy #2)
Paperback

* Individual store prices may vary.
Other Editions of This Title:
Digital Audiobook (6/24/2020)
Digital Audiobook (5/9/2012)
Digital Audiobook (6/15/2020)
Digital Audiobook (5/7/2012)
Digital Audiobook (4/1/2019)
Paperback (5/4/2021)
Hardcover (5/8/2012)
Paperback, Large Print (4/2/2013)
CD-Audio (5/8/2012)
Paperback, Chinese (6/29/2012)
Description
WINNER OF THE 2012 MAN BOOKER PRIZE

The sequel to Wolf Hall, Hilary Mantel's 2009 Man Booker Prize winner and New York Times bestseller, Bring Up the Bodies delves into the heart of Tudor history with the downfall of Anne Boleyn.

Though he battled for seven years to marry her, Henry is disenchanted with Anne Boleyn. She has failed to give him a son and her sharp intelligence and audacious will alienate his old friends and the noble families of England. When the discarded Katherine dies in exile from the court, Anne stands starkly exposed, the focus of gossip and malice.

At a word from Henry, Thomas Cromwell is ready to bring her down. Over three terrifying weeks, Anne is ensnared in a web of conspiracy, while the demure Jane Seymour stands waiting her turn for the poisoned wedding ring. But Anne and her powerful family will not yield without a ferocious struggle. Hilary Mantel's Bring Up the Bodies follows the dramatic trial of the queen and her suitors for adultery and treason. To defeat the Boleyns, Cromwell must ally with his natural enemies, the papist aristocracy. What price will he pay for Anne's head?

Bring Up the Bodies is one of The New York Times' 10 Best Books of 2012, one of Publishers Weekly's Top 10 Best Books of 2012 and one of The Washington Post's 10 Best Books of 2012
Praise For Bring Up the Bodies: A Novel (Wolf Hall Trilogy #2)…
"Mantel knows what to select, how to make her scenes vivid, how to kindle her characters. She seems almost incapable of abstraction or fraudulence; she instinctively grabs for the reachably real...In short, this novelist has the maddeningly unteachable gift of being interesting." —The New Yorker

"[Bring Up the Bodies] is astringent and purifying, stripping away the cobwebs and varnish of history, the antique formulations and brocaded sentimentality of costume drama novels, so that the English past comes to seem like something vivid , strange and brand new." —The New York Times Book Review

"Two years ago something astonishingly fair happened in the world of prestigious prizes: the Man Booker Prize and the National Book Critics Circle Award for fiction for 2009 both went to the right winner. The book was Hilary Mantel's Wolf Hall, and it would have dwarfed the competition any year…It was a hard act to follow. But the follow-up is equally sublime…That ironic ending will be no cliffhanger for anyone even remotely familiar with Henry VIII's trail of carnage. But in Bring Up the Bodies it works as one. The wonder of Ms. Mantel's retelling is that she makes these events fresh and terrifying all over again." —The New York Times

"Bring Up the Bodies isn't just her boldest book; it's also her best -- and it reaffirms Mantel's reputation as one of England's greatest living novelists." —NPR

"Hilary Mantel made waves in 2009 with her Man Booker Prize-winning page-turner, Wolf Hall…The second in her planned trilogy, Bring Up the Bodies stalks Anne Boleyn and the soap-opera worthy machinations of Cromwell and his evil allies to bring down the powerful wife of the king. Who knew history could be so sexy?" —Vanity Fair

"What's being called the Wolf Hall Trilogy is a remarkable work in progress, a series that makes the past feel immediate and--this is the best part--unpredictable. Even if you know the history, you'll find yourself racing through these pages to find out what happens next." —People

"After pulling off this literary feat twice, you realize the smartest person in the room isn't Cromwell after all--it's Mantel." —The Huffington Post

"the finest works of historical fiction in contemporary literature." —The Washington Post

"Fans of Wolf Hall will relish this book, but Bring Up the Bodies also stands alone…Her characters are real and vivid people who bring to life the clash of ideals that gripped England at the time. She makes the past present and vital." —The Economist

"Bring Up the Bodies stands magnificently on its own...such is [Mantel's] skill" —LA Times

"You won't be able to tear your eyes away." —The Seattle Times

"The worst that can be said about Mantel--her latest book makes you angry, because you want more." —Slate

"In Mantel's hands, Cromwell's cunning, morally complicated orchestration of that historic slice through the royal neck is as exciting as any thriller." —Entertainment Weekly

"With wit, daring style, and a staggering breadth of historical knowledge, Mantel breathes new life into reclaimed territory." —Bookslut
Picador, 9781250024176, 432pp.
Publication Date: May 7, 2013
About the Author
Hilary Mantel is the two-time winner of the Booker Prize for her best-selling novels, Wolf Hall, and its sequel, Bring Up the Bodies. The final novel of the Wolf Hall trilogy, The Mirror & the Light, debuted at #1 on the New York Times bestseller list and won critical acclaim around the globe. Mantel is the author of over a dozen books, including A Place of Greater Safety, Beyond Black, and the memoir Giving Up the Ghost.
The novel starts off with a description of hawks soaring in the sky and swooping in to slaughter their prey. In the same manner, the novel closes off with an image of a fox attacking a hen coop. What is the significance of these animals and what do they symbolize?
How has Cromwell's upbringing influenced him to become the shrewd and ambitious man that he is? What is the significance of Cromwell refusing to adopt the coat of arms belonging to a noble Cromwell family even as he widens the chasm between his father and himself? How does Cromwell view family and how is it different from his own experience growing up?
How is King Henry VIII described in the novel? Is he self-serving, or does he truly believe in the validity of his actions? Does he come over as a sympathetic character?
Katherine is accused by Cromwell of causing the split within the church, and of endangering her daughter Mary, by her stubborn resistance to the King's wishes. Do you view Katherine as a relentless and self-indulgent queen or is she noble for staying true to her beliefs?
Cromwell believes that England "will keep spiraling backwards into the dirty past" unless blunders are forgotten and old quarrels ended. How does this belief influence his actions in trying to build a new England? Does the king help or hinder him in this urge for renewal? How far are Cromwell's actions unselfish, and how far are they self-serving?
King Henry had fawned over all three women (Katherine, Anne, Jane) at one point in time. His past actions indicate that he loved his former wives, yet each affair proves temporary. How does Henry view love? Why do the women in the novel endeavor to wear the "poisoned ring?"
There is enormous power in a woman's gaze. How do the women in this novel utilize their feminine wiles to their advantage? What effect do they have on men subject to their lure, and what does this tell you about women's power over their male counterparts?
Birth and is a major conceit throughout the novel. As "nails give birth to nails," are children the product of their parents? Consider the parent-child relationships in the novel. What influence do parents have on their progeny?
When the King is thought to be dead after a jousting accident, there is a sudden rush to claim the crown. Are the players idealists, attempting to realize their political and religious ideals for England, or are they simply interested in getting power for themselves?'
Anne Boleyn is accused of committing adultery and even incest. Could there be any truth in these accusations, or are they complete fabrications by her enemies? How does she change once she realizes she is in danger?'
Cromwell seems very protective of Wyatt and saves him from death, even though he is widely suspected of being one of Anne's lovers. Why does Cromwell feel such a strong need to defend him when he vehemently accuses others of being the Queen's bedfellows? What sets Wyatt apart from the other men portrayed in the novel? What have Wyatt and Cromwell in common?'
Does the novel make you reconsider your view of the Tudors?
The story concludes with Cromwell's claim that there are no endings, only beginnings. The country now has a new queen and a new leading family. What does this mean for England's future? What do you think Cromwell's role will be in the new order?
The execution of Anne Boleyn is one of the most frightening moments in English history. Anne's last words are scripted to appease the King. What do you think would have been Anne's last words had there not been any consequences?
Coverage from NPR
or
Not Currently Available for Direct Purchase