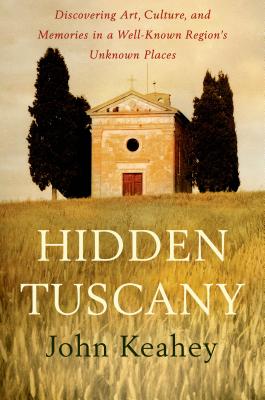 Hidden Tuscany (Hardcover)
Discovering Art, Culture, and Memories in a Well-Known Region's Unknown Places
Thomas Dunne Books, 9781250024312, 296pp.
Publication Date: July 15, 2014
* Individual store prices may vary.
Description
In Hidden Tuscany, acclaimed author John Keahey takes the reader into a part of Tuscany beyond the usual tourist destinations of Chianti, Florence, and Siena. The often overlooked western portion of Tuscany is rich with history, cuisine, and scenery begging to be explored, and Keahey encourages travelers to abandon itineraries and let the grooves in the road and the curves of the coast guide your journey instead.
Follow Keahey as he turns off the autostrada and takes roads barely two lanes wide to discover fishing villages along the Tuscan sea. Then move inland into rolling foothills adorned with cherry orchards, ancient olive groves, and sweeping vineyards that produce wines that challenge Chianti's best. Here it is still possible to follow the paths of Romans, Crusaders, and pilgrims from throughout the western world who were eager to reach Rome.
Hidden Tuscany provides intriguing images of places such as Livorno, a port city with canals; Pietrasanta, Tuscany's Citta d'Arte; and Capraia, an island formed by volcanoes. Keahey engages with the inhabitants of these enchanting landscapes, whether sculptors who toil in marble studios or residents whose own memories and traditions illuminate major moments in world history.
From coastal towns to vineyards farther inland to the Tuscan archipelago, Keahey reminds us that each village, city, and island has its own unique story to tell. For armchair travelers and vacation seekers alike, Hidden Tuscany brings a new side of this classic Italian region to life, and the result is mesmerizing.
About the Author
John Keahey is a travel writer and former award-winning newsman. A native of Idaho and graduate of the University of Utah with degrees in history and marketing, he first stepped onto Italian soil in 1986. Enchanted by what he found--stunning ancient ruins, unique food, magnificent countryside, and, most important, warm and engaging people--he has returned nearly every year since. His other travel narratives include Seeking Sicily: A Cultural Journey Through Myth and Reality in the Heart of the Mediterranean, Venice Against the Sea: A City Besieged, and A Sweet and Glorious Land: Revisiting the Ionian Sea. Keahey lives in Salt Lake City, Utah, with his wife and partner Connie Disney, a freelance book designer.
Praise For Hidden Tuscany: Discovering Art, Culture, and Memories in a Well-Known Region's Unknown Places…
Praise for Hidden Tuscany

"Every landscape hides a story, and it is the travel writer's task to find it. John Keahey reveals a Tuscany starkly different from Merchant Ivory period films, a Tuscany of marble quarries and sulfur springs, medieval towns and Etruscan necropolises, poisonous marshes and prehistoric archipelagos, and cattle country as wild and wooly as any in the American West. Shaped by time and tide, scarred by war and haunted by exile, this is a Tuscany of stark contrasts. Dazzling sunflowers clash with somber cypresses, while local seafood evokes the ghost of the drowned poet Percy Shelley. Keahey wrote this book 'to engender a spirit of discovery' in readers. He succeeds spectacularly. His prose is as chiseled and polished as the finest Carrara." —Anthony Di Renzo, author of Bitter Greens and Trinàcria: A Tale of Bourbon Sicily

"If you've never explored the western part of Tuscany—and few people have—John Keahey's Hidden Tuscany will make you want to run for the next flight. From the marble shops of Pietrasanta to the ruins of the Sant'Anna di Stazzema massacre to the remote villages in the Maremma, Keahey takes us on a cultural, historical and mouth-watering gastronomical journey through one of the most fascinating regions in all of Italy. Part personal journal and part guide, this is a book to treasure—and to take along when you make that trip." —Paul Salsini, award-winning author of the The Cielo

"Better than a guide book, Hidden Tuscany offers us close-ups of the cities and villages of western Tuscany and puts us in touch with the people who live there." —Robert Hellenga, author of The Sixteen Pleasures and Fall of the Sparrow

"A detailed and enthusiastic introduction to Tuscany's coastal areas, this book will come as an intriguing surprise to many who thought they knew the region well." —Mary Taylor Simeti , author of On Persephone's Island
or
Not Currently Available for Direct Purchase