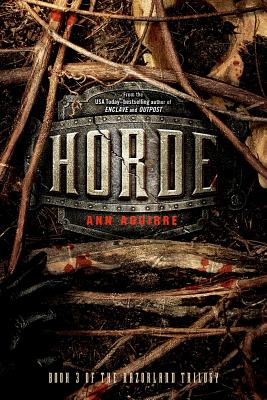 Horde (The Razorland Trilogy #3) (Hardcover)
Feiwel & Friends, 9781250024633, 432pp.
Publication Date: October 29, 2013
* Individual store prices may vary.
Description
The epic conclusion to Ann Aguirre's USA Today bestselling trilogy.

The horde is coming.
Salvation is surrounded, monsters at the gates, and this time, they're not going away. When Deuce, Fade, Stalker and Tegan set out, the odds are against them. But the odds have been stacked against Deuce from the moment she was born. She might not be a Huntress anymore, but she doesn't run. With her knives in hand and her companions at her side, she will not falter, whether fighting for her life or Fade's love.
Ahead, the battle of a lifetime awaits. Freaks are everywhere, attacking settlements, setting up scouts, perimeters, and patrols. There hasn't been a war like this in centuries, and humans have forgotten how to stand and fight. Unless Deuce can lead them.
This time, however, more than the fate of a single enclave or outpost hangs in the balance. This time, Deuce carries the banner for the survival of all humanity.
About the Author
Ann Aguirre has been a clown, a clerk, a savior of stray kittens, and a voice actress, not necessarily in that order. She grew up in a yellow house across from a cornfield, but she now lives in a terracotta adobe house in Mexico with her husband and two adorable children. The post-apocalyptic novel Enclave is her first book for young adults. She also writes the romantic science fiction series about Sirantha Jax, starting with Grimspace, as well as urban fantasy and paranormal romance. As Ava Gray, she writes paranormal romantic suspense.
Praise For Horde (The Razorland Trilogy #3)…
"[Enclave] is a young adult dystopian novel and has been compared to the hit series The Hunger Games. To say we're excited is a major understatement…" —ElleGirl.com
"In her first young adult novel, Aguirre (the Sirantha Jax series) has created a gritty and highly competent heroine, an equally deadly sidekick/love interest, and a fascinating if unpleasant civilization. This series is likely to hold considerable appeal for fans of The Hunger Games." —Publishers Weekly
"Enclave is dark and thrilling, fast-paced and intense. With some graphic and gross imagery and a hard look at a post-apocalyptic world, Aguirre has taken themes from Scott Westerfeld and an assortment of zombie literature and created something that is very much her own -- and a very engaging read." —RT Book Reviews
"This well-paced zombie-esque adventure in an urban wasteland will keep fans happy." —Kirkus Reviews
"Aguirre's young adult debut is a gripping survival story set in an apocalyptic future. . . This is a tense, action-packed dystopia with intriguingly gray characters. . . " —Booklist
"Deuce's passion for life, even in her bleakest moments, is contagious, and that passion exemplifies the nebulous force that has driven all of these individuals to persist in the face of awful options." —The Bulletin of the Center for Children's Books